Coverage
People affected by Brumadinho dam disaster protest outside Minas Gerais court
800 people, including Brazilian and international activists and those directly affected by the dam collapse, demand justice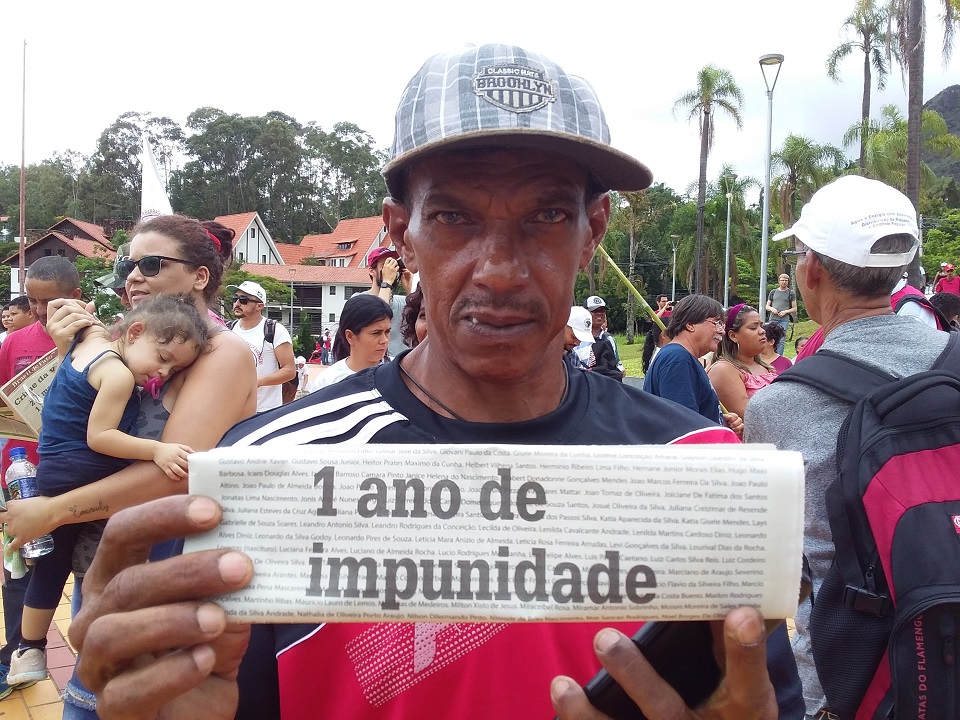 The Brazilian Movement of People Affected by Dams (MAB) launched on 20 January a week of activities for the Days of Struggle ("Jornadas de Lucha") to mark the first anniversary of corporate crimes committed by mining company Vale in Brumadinho, Brazil.
Hundreds of people affected by mining and hydroelectric dams will march 300 kilometers over five days, tracing back along the path of toxic mud that burst out when three dams collapsed in Brumadinho on 25 January, 2019. The sludge, laden with heavy metals and amounting to 12 million cubic meters, covered homes, offices and restaurants, and claimed 272 people (including two pregnant women).
Four days after the dam collapse, police arrested several inspectors who were supposed to ensure the stability of the dam containing toxic waste, along with three Vale security staff. However, all were released just a few hours later. Since then, the Brazilian courts have failed to identify or prosecute any executives from the Vale company, which is one of the world's largest producers of iron and nickel.
On Monday, demonstrators marched one kilometre, from downtown Belo Horizonte to the Minas Gerais Court of Justice and then to the National Mining Agency (ANM). There, they demanded that authorities "accelerate the judicial process", and denounced the impunity of Vale S.A. executives and the lack of oversight for dam construction.
It is known that 83 out of the 840 dams in Minas Gerais are at serious risk of collapsing over towns, just like in Brumadinho. As reported to Real World Radio, there are only seven officers in the National Mining Agency in charge of overseeing all dams in the province.
Affected peoples and members of MAB told Real World Radio about how they still live with the pollution left by the toxic mud from Brumadinho, as it spread along the Paraopeba River.
"We live in a beautiful place, but now with the river pollution we feel that it is not the same", said Sandra de Assis Reis, from Entre Rios de Minas, a city at the river source. She is a History professor and coordinator of the Popular Housing Forum.
"Today the river is still severely polluted. We were devastated when we heard that the Paraopeba river had been polluted, where we have nature, children, fish. We feel great pain knowing that the river is not what it used to be. All of this is linked to mining. Everyone, going right back to the black people who came from Africa, has suffered a lot. There is exclusion and class division. We – the poor, the people at the bottom – are the main victims of mining companies."
At a judicial level, in 2019 MAB managed to get 108,000 people officially recognized as "people affected by Brumadinho", recipients of "emergency aid". Vale was ordered to pay a year of minimum wage to each adult, half wages for teenagers and quarter wages to children.
However, this economic compensation does not come close to paying for what happened. Peoples' health has been severely affected, many have not been able to recover their homes, and several families are still searching for their relatives under the toxic sludge. The MAB called for this emergency aid to be extended until "comprehensive compensation" is provided. At the end of 2019, courts ordered Vale to pay 10 more months of compensation – in full to 15,000 people and half compensation to the rest.
Jocely Andrioli, member of the National Coordination of MAB, talked to Real World Radio about the impunity surrounding the Brumadinho case:
"We question the role of the judicial authorities who listen more to the criminals than the victims. We will not give up until there is full reparation. People need emergency aid to buy food; they are starving because they lost their jobs in the field and as artisanal fisherfolk".
"The judicial authorities do not know what to do in these cases", said Tchenna Masso, also member of the Coordination of MAB. Tchenna studies especially at how to achieve justice where corporate power is involved. For her, this is an emblematic case wherein the corporation could be judged for human rights violations, but it is difficult without a UN Binding Treaty that would provide a framework for judging such crimes. Meanwhile, Vale recently launched a strong media advertising campaign.
"Vale prefers to spend millions on advertising, instead of investing in environmental reparation and providing justice for affected peoples. But we will keep marching to get the attention of our society. These are difficult times in Brazil, which allow Vale to continue violating rights", said Andrioli.
MAB also recalled that the authorities must enforce the creation of an Independent Technical Advisory Office, which would do an assessment of the impacts together with the affected peoples, while guaranteeing the right to access information, and create their specific demands for comprehensive reparation.
22 international representatives from 15 countries are participating in the Days of Struggle, from 20-25 January, including various movements of peoples affected by dams in Latin America, the United States and Europe.
Juan Pablo Soler, from the Latin American Movement of People Affected by Dams (MAR), said that they propose to change the mining-energy model which murders people and displaces communities. He criticized the fact that companies like Vale and BHP have so far done nothing to compensate affected peoples or prevent further dam collapses.
The MAB march will go through Pompeu, Juatuba, Betim and Brumadinho, to commemorate the first anniversary of the largest environmental crime of this type in Brazil since the Mariana disaster. It seeks also to expose the impacts on the physical and mental health of mining workers, who suffer from water pollution, the loss of loved ones, loss of jobs and the indifference of the State, Vale and judicial authorities.
(CC) 2020 Real World Radio