Coverage
Positive for Corporations, Negative for Nature
Report from the COP15 on biodiversity in Canada
At the 15th Conference of the Parties (COP) of the United Nations Convention on Biological Diversity taking place in Montreal, Friends of the Earth International (FoEI) has denounced the negotiations for the Global Biodiversity Framework, saying they are "captured" by transnational corporations and that the solutions on the table are actually false solutions.
During a press conference held on Friday at the COP15 in Montreal, Canada, FoEI warned that so-called "Nature-Based Solutions" and "Nature Positive" are forms of greenwashing.
In addition, the environmental federation warned that local communities and Indigenous Peoples, the main defenders of nature, are not included at the international talks, particularly in the agricultural sector, where agribusiness – a key player in the destruction of biological diversity – dominates over people-centred models like agroecology.
"We see that the global corporations, the real huge oil, mining corporations, and agrocommodity corporations, they have a seat in these negotiations. And they are the ones really responsible for the destruction of many of our ecosystems," said Chair of Friends of the Earth International, Hemantha Withanage, at the press conference.
Meanwhile, the international Coordinator of the Forests and Biodiversity Programme at Friends of the Earth International, Nele Marien, referenced  false solutions such as nature-based solutions and Nature Positive, which corporations to continue their destructive activities, based upon unrealistic promises of them being compensated elsewhere: "Nature Positive means that it's okay to destroy biodiversity somewhere and to preserve or restore it somewhere else. So this is really problematic."
Dana Perls from Friends of the Earth U.S., spoke about the corporate promotion of the use of biotechnologies: "These are genetic engineering and biotechnologies that we need to be watching, we need to be assessing, we need to be monitoring. And we need the Convention to be making decisions to make sure that we are looking forward and being precautionary in our regulations."
Moreover, Mariann Bassey from Friends of the Earth Nigeria highlighted the role of communities that protect biodiversity: "We are here to protect and speak about nature, people, communities, and it's surprising that we are far from it. The people we are supposed to save are not central in the discussions that are going on here."
As part of the actions in the framework of COP 15, on 9 December there was a silent march to remember and honour the defenders of human and environmental rights, who contribute on a daily basis to taking care of all forms of life.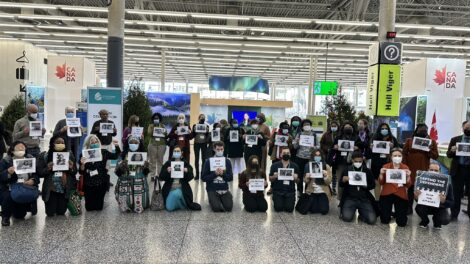 On 10 December, Human Rights Day, there was another street mobilisation. "We demand this COP be based on justice, human rights and equity. Indigenous Peoples, peasants, fisher folks are the ones who defend biodiversity against corporations, destruction and violence," said Marian Bassey from Friends of the Nigeria.
"This is the 15th time governments, countries, will be gathering to debate biodiversity, this time, in the beautiful city of Montréal 🍁…#COP15 #Biodiversity #HumanRightsDay pic.twitter.com/f43YmPOAHE

— Friends of the Earth International (@FoEint) December 10, 2022
In addition to its critical view on corporate capture, FoEI presented a proposal document with seven key demands that the Convention on Biological Diversity must include:
Living within planetary boundaries and with environmental integrity.
A framework founded on human rights and full respect for Indigenous Peoples and local communities.
Government regulation of business, not self-regulation.
Keeping false solutions and greenwashing out of the global biodiversity framework.
Biodiversity must not become a trade-off for climate.
Changing the agricultural model with a shift towards agroecology.
Provision of finance for implementation of the GBF.
The full document can be found here.
(CC) 2022 Real World Radio