News
URUGUAY: MORE THAN 1.5 MILLION PEOPLE WITHOUT ACCESS TO DRINKING WATER
How the drought uncovered a plunder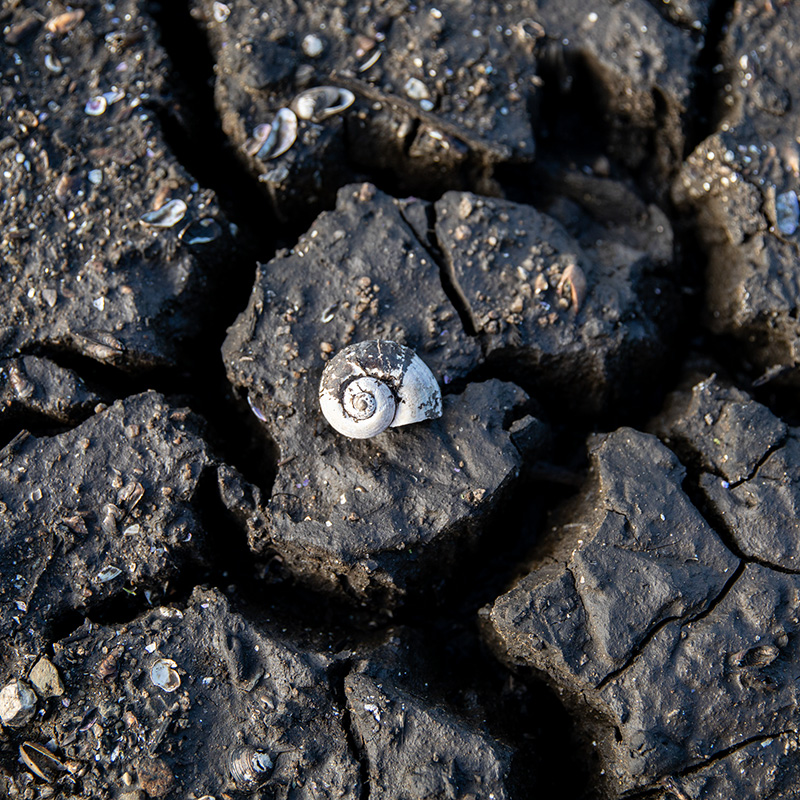 Almost 100 days ago, residents of Uruguay's capital city, Montevideo, were informed that sodium and chloride levels in their drinking would go up. This news came from the public company in charge of the national drinking water supply, OSE.
The freshwater reserves of Paso Severino dam on the Santa Lucía river, which supplies water to this region, were running low due to a lack of rainfall. To make the water supplies go further, the authorities began to mix in salt water that flows from the Río de la Plata river through tidal action.
From that moment on, 60% of the Uruguayan population started receiving salt water in their homes.
The UNIT 833/2008 Standard, which certifies products and services in the country, puts the acceptable value of chlorine in water at 250 mg/L, and sodium at 200 mg/L. In the first week of May, the water company OSE, with prior permission from the Ministry of Public Health (MSP), increased chlorine levels to 780 mg/L and sodium levels to 420 mg/L.
From one day to the next, 1,700,000 people were left without drinking water.
The spinning of rhetoric and discourse by the authorities to avoid admitting that the water is not safe to drink are endless. Ministers and national authorities insist that water is "drinkable," they also use the concept of "safe water." However, in addition to being unpalatable because of its taste, the MSP itself does not recommend using this water for infant formula, nor for people with kidney disease or heart failure, pregnant women, or people with high blood pressure. Fact: in Uruguay, three out of ten people between 15 and 64 years of age have high blood pressure. The question becomes clear: "drinkable" for whom?
The impacts are numerous. Sodium, but especially chloride, is highly corrosive: heating boilers have started to break, metals are beginning to rust. Many different problems are emerging, some of which are still unknown as information comes late, is confusing, or is kept as classified. Authorities contradict each other in their statements and social participation in the issue is completely restricted.
For the World Health Organisation, the definition of drinking water must meet one key requirement: it must be acceptable to drink. No one accepts salty water for drinking. If people drink it, it is because they cannot afford to pay for bottled water. They have no alternative. And this is happening in the first country in the world to enshrine in its Constitution, by popular vote, drinking water as a fundamental human right.
The government recommends consuming bottled water and waiting for rain, not washing cars, reusing water for irrigation and cooking, among other similar measures. In doing so, it places the responsibility on people, and blame for water shortages on the unpredictable and untamed nature.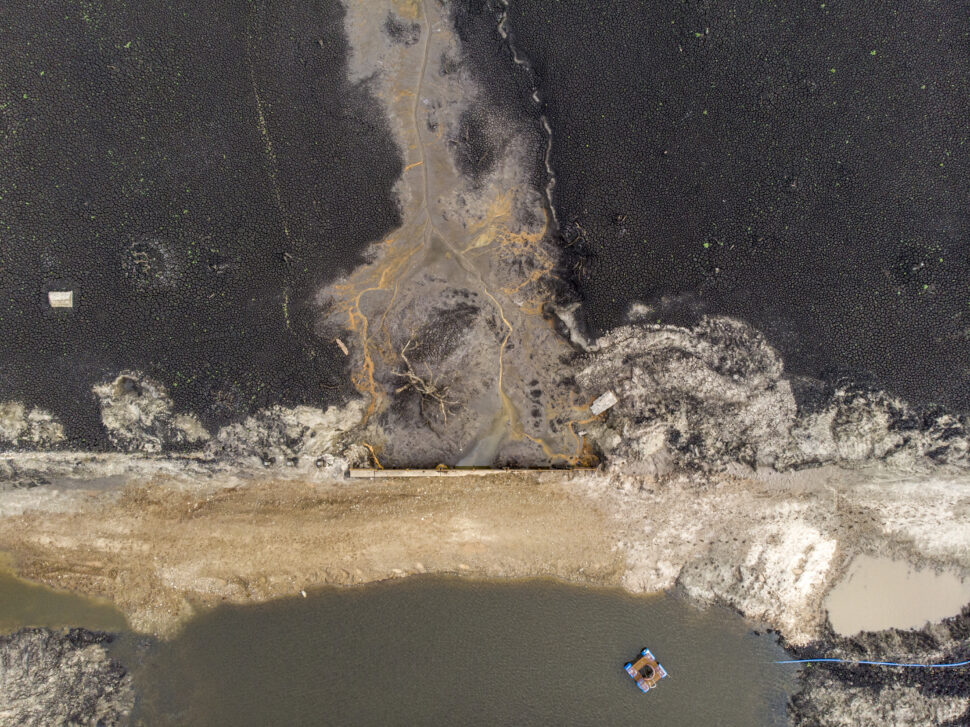 Real World Radio interviewed environmentalist María Selva Ortiz, from REDES – Friends of the Earth Uruguay, to understand what lies beyond the drought and what are the possible ways to overcome the crisis, which is not only a water crisis, but also a health crisis.
Water extractivists
Ortiz believes that one of the causes of the current water crisis is a "very bad management and misuse of the territory." Uruguay's National Water Policy has clear principles: solidarity with future generations, prioritising the social over the economic, and prioritising the harvesting of water for human consumption over any other purpose. "If these principles had been respected and if 'big capital' hadn't been favoured, things would be different, we would not have handed over the territory to genetically-modified soy, to the pulp forestry model, to industrial cattle farming and large extensions of land for extractive agribusiness that have put the quality and quantity of our water at risk on several occasions," said Ortiz.
In January this year, President Luis Lacalle Pou, of the right-wing Partido Nacional, said: "we are almost doing a rain dance."
The University of the Republic and the Uruguayan Institute of Meteorology had already warned on several occasions about the prolonged drought. "Since October last year there have been public policies so that the agricultural sector has fresh water, but for the population they are still waiting for it to rain," Ortiz said.
80% of pollution in the Santa Lucía river basin comes from the agricultural sector, and there are almost 500 reservoirs for private use.
"On the riverbed and banks of rivers and streams we have to do another type of management (…) not only mitigation plans, but also plans to restore nature." Ortiz considers that a possible strategy to prioritise the use of the basin and the water territory for human consumption is "a transition towards another agricultural model, a plan for a reconversion to agroecology." In addition to ensuring water as a human right, this would contribute to the path of food sovereignty.
"This means putting the brakes on the private sector, and the current government has no political will for this," said the environmental activist and researcher.
The gods have no Constitution
Another cause of this crisis is the dismantling of OSE, the public company that provides water and sanitation. Cuts in staff and investments are constant. The union of OSE workers, FFOSE, are currently in conflict, denouncing that since 2018 no staff have been hired, yet at least 1,000 workers would need to be hired in order to function in optimal conditions. This affects the management and care of drinking water.
50% of OSE's drinking water is lost due to broken or leaking pipes.
Ortiz is clear: "part of the neoliberal policy is to dismantle OSE in order to justify the privatisation of water." And indeed, the Uruguayan government is promoting the Neptuno Project, also known as Arazatí, a new water treatment plant located on the Río de la Plata River, which will be in the hands of a consortium of five private national companies, some of them with transnational capital.
Within this consortium there are construction companies responsible for the infrastructure for UPM (a Finnish cellulose forestry company with two pulp mills in Uruguay) and other projects linked to agribusiness in the country. "There is a very strong relationship between the government and extractivism, they are handing over the territory." Ortiz continued: "taking water from La Plata estuary involves a number of problems, one is salinity and cyanobacteria, because it is the sewer of the La Plata basin and we share it with five countries; it is also a bid by the government to privatise public services, which violates the Constitution."
Article 47 of the Uruguayan Constitution states: "The public sanitation service and the public water supply service for human consumption will be provided exclusively and directly by state legal entities." For this reason, REDES – Friends of the Earth Uruguay filed a legal protection appeal before the courts.
The Neptuno Project, in addition to violating the Constitution, also violates the international Escazú Agreement, ratified by Uruguay in 2019, because as Ortiz said, "we have not had access to information, participation and justice."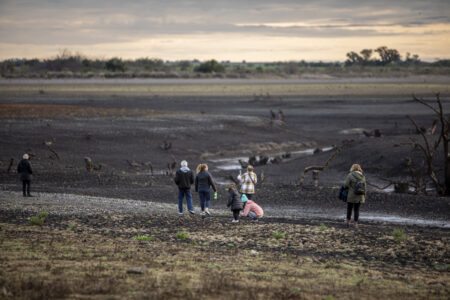 Transnationals everywhere
According to a survey, 94% of the people affected by the water crisis now drink bottled water. "We are commodifying a fundamental human right. If you don't have money you can't buy water," said Ortiz. UN experts warned that it "creates a risk of a de facto privatisation of water for human consumption, forcing the population to buy water."
With the crisis, the sale of bottled water has tripled. According to an investigation by media collective Zur, there are 52 companies registered in Uruguay for the sale of bottled water. The Salus brand has 70% of the market. It belongs to the French transnational group Danone and produces at least 60,000 kg of plastic waste each day. The company is authorised to extract 3,787,000 litres of water per day from ten wells and nine springs (of public domain), for which it pays absolutely nothing, and part of the water extracted is exported.
"We are giving a big business to a multinational company that is holding 1,700,000 Uruguayan men and women hostage because the government could not come up with a better idea. A neoliberal government satisfies its basic needs in the market."
This is not all. While the south of the country is running out of drinking water, a second pulp mill of Finnish transnational UPM is being inaugurated in the north, a project that takes water from the Río Negro River and consumes the same amount of water per day as 44 million people, that is, 12 times the total population of Uruguay.
On the other hand, Montevideo Refrescos, the private company that produces Coca Cola, among other beverages, uses approximately 30,000 cubic metres of water from OSE per month, which is equivalent to what 7,000 people consume.
Defending water, defending life
For almost a month there were self-organised demonstrations every day. Three months later, the people's struggle continues in the streets, with neighbourhood assemblies, graffiti, leaflets, talks, artistic activities, and a variety of concrete proposals that the government has systematically ignored.
"In May the government promised a desalination plant. It's July and it still hasn't arrived. They proposed a dam on the San José river, which broke after a landslide. All the proposals they have made have failed. Social organisations and academics have clear proposals, but the government does not want to listen to them or dialogue with us," Ortiz stressed.
Among the many proposals made by the social organisations, there are a number of key proposals to confront the crisis, including: 1. Tanks to bring drinking water to neighbourhoods; 2. A decree which sets a fixed price for bottled water. 3. Suspend the collection of the drinking water tariff by OSE. 4. Allocate the necessary resources to OSE and departmental governments to ensure the supply of drinking water and repair losses. 5. Suspend the Neptuno Project; 6. Start to implement measures to recover the Santa Lucia River basin with social participation; 7. Resume the project on the Arroyo Casupá stream.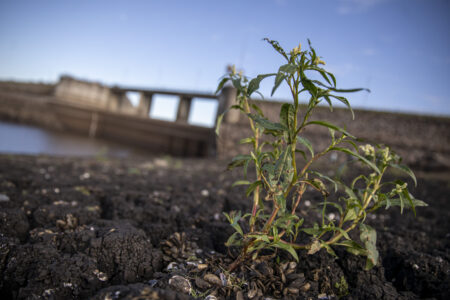 In addition to these measures, there are more proposals on the table from various social sectors, for example: restricting water consumption of large non-residential consumers who do not provide essential services, the opening of all private reservoirs, and a ban on planting or replanting soybeans and forestry in the Santa Lucía river basin.
A few isolated rains have calmed the waters and refreshed the taps, but the plundering has become evident: what everyone is missing is being taken by a few.  Maria Selva Ortiz's questions are still echoing: "What will happen next? When it rains, after years of drought, with a depleted and compacted soil, we will have other kinds of problems. What will continue to prevail: the interests of big capital or the interests of the people?
Photos: Santa Lucía river before the Paso Severino dam, July 2023 / Mauricio Zina
(CC) 2023 Real World Radio