Main Slider
CELEBRATING THE LIFE OF NALU FARIA: PRESENT, TODAY AND ALWAYS!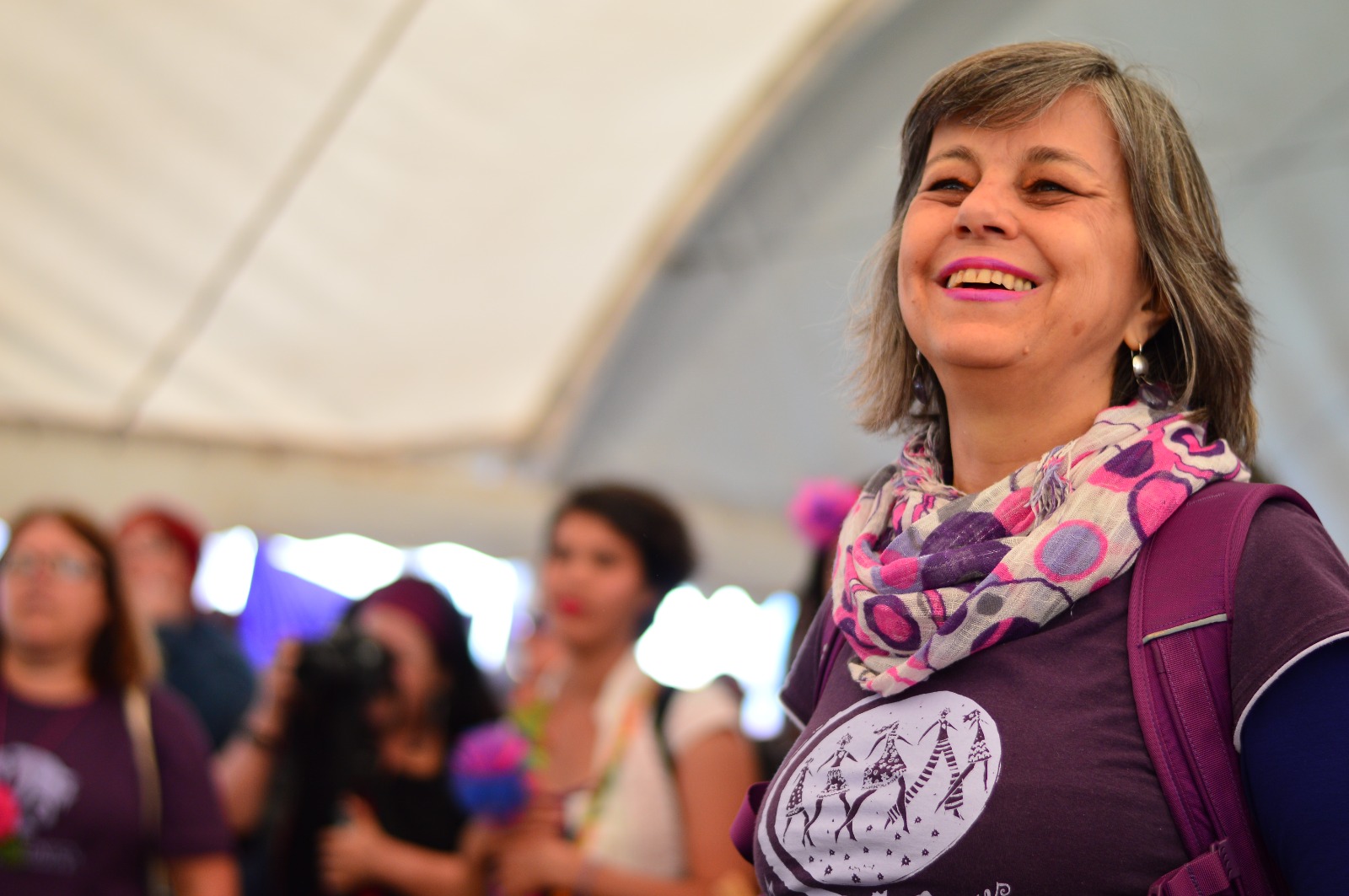 These lines are destined to fail. They pursue an unachievable goal. How can we honour the life, ideas, thought and action of someone who gave her life to the people's needs without hesitation, and who formed, and will continue to form, generations of women fighters?
Nalu Faria was, and will continue to be, an essential reference figure for understanding grassroots, class-based, street feminism. Those of us who grew up surrounded by social movements knew that listening to Nalu was the best way to begin our feminist journey. In order to understand gender injustices and why patriarchy is the backbone of capitalism, the first thing to do was to read and listen to Nalu.
The years and her company put things in their place, and we understood that Nalu was essential to understanding how our struggles are interconnected. And that the feminist struggle had to be intersectional; it could not ignore the environmental struggle, the working-class protests, the anti-racist struggle, the defence of Indigenous Peoples' territories, the protests of peasant women all around the world defending their seeds. Nalu taught us that the struggle is one and must be fought.
With Nalu we learnt that "machismo" oppresses women in the streets, workplaces, recreational spaces, even in our families and friendships. And that the voracity and misery of the neoliberal capitalist system cannot be defeated without dismantling patriarchy. What a legacy of grassroots feminism for peoples' struggles!
With Nalu we also learned about class struggle, unity in diversity, the indivisible relationship between thought and action, internationalist solidarity, and the need to rebel in the face of any injustice, here and everywhere around the world.
Feminism must be anti-capitalist, Nalu said, because one cannot speak of equality within capitalism. Nalu was a frontline feminist. She marked a before and after for all of us. Even so, to do her life justice, we have to recognise her as a comrade with whom we learned to embrace the sense of justice, the struggles of the peoples. She taught us about activism and dedication. She permeated us with the need to put life at the centre, the urgency of thinking about the capital-life conflict.
That is why Nalu cannot be labelled, divided and understood only as a great feminist. Nalu was an immense social fighter, someone who brought movements together, an architect of unity and integration between peoples. She understood women as collective political subjects in action together with so many other collective political subjects.
Nalu was also someone of generosity, affection, smiles – perhaps since while we must be tough, we should never lose tenderness. Our comrade was humble and had a beautiful openness to times of enjoyment, anecdotes and laughter, with those of us who occasionally crossed her path. She was one of us and it was very pleasant to be around her.
Nalu led the way without displaying the obvious predominance of her political, conceptual and strategic clarity. Perhaps that is what we will miss the most, that way of carrying her brightness on her shoulders, ever so effortlessly.
Her absence hurts, infinitely. The emptiness sinks into our chests. But in her absence, is also her presence. Among her comrades in the Sempreviva Feminist Organisation and the World March of Women, and among all of us who are part of grassroots movements in Latin America and the world, there are many proud "Nalus" who have embraced her ideas and her ways of being. That is without a doubt her greatest gift. Nalu was a trainer of trainers. And in them, and in us, she will be eternal.
Hence the title of these lines, and our farewell: Nalu Faria present, today and always!
Real World Radio
To learn more about Nalu's thoughts, check out this RWR article:
"The feminist struggle is not just about giving more rights to women, but building another society"
(CC) 2023 Real World Radio