Opinion Pieces
Neoliberalism, pandemic, precarious lives: the challenges faced by feminism
By Nalu Faria*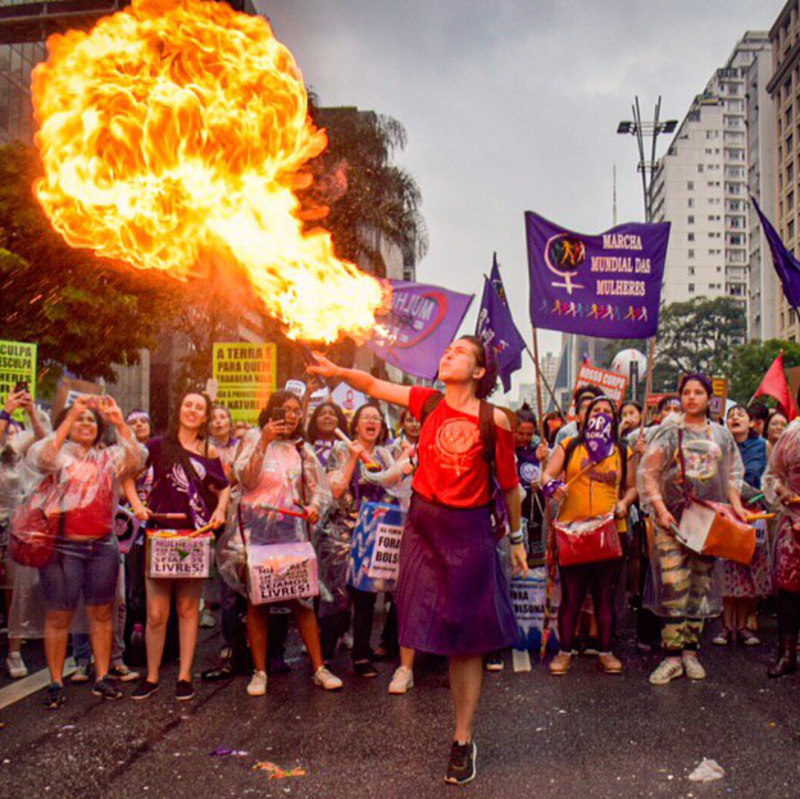 If we watch the news around the world or observe the reality of those around us, we can see how the precarization of work, the scarcity of natural resources, violence and criminalization are increasingly present in the harsh reality of daily life. The new COVID-19 pandemic exposes, in an even more drastic way, the clash of capital versus life. In Brazil, lives are being ravaged by Bolsonaro's administration, without care, without prevention, without solidarity, all in the name of profit and capitalist production.
In 2020, with World March of Women we mobilized around the banner "We resist to live, we march to transform!" We seek to dismantle the current capitalist, patriarchal, racist, LGBT-phobic, colonialist model, which follows a logic of accumulation that is incompatible with the sustainability of life.
The dynamics imposed by this model are currently going through an acute crisis, through a conservative and neoliberal offensive on life, territories and the work of women and poor people in general. This offensive makes life more precarious; it strengthens authoritarianism, and trivializes and degrades democracies. Conservatism is closely linked to projects of power and control over peoples and women.
Authoritarianism and far-right wing violence pursue an anti-feminist agenda, articulated with racism, xenophobia and other forms of domination and exploitation based on class and race. This is not only in Brazil, but for instance also in Turkey, the Philippines and the US.
The bourgeoisie has systematically attacked the working classes' ability to organize, particularly trade unions. Their struggles of resistance continue, yet in a context of fragility, precarization and fragmentation of the working class, resulting from disruption of their ways of working.
They are overworked in increasingly informal jobs, emphasized by discourses of meritocracy and competition.
In the Americas, we are seeing processes of articulation and alliances between the traditional ways of organization and new mass mobilizations of Indigenous Peoples, peasants, black people, LGBTTQI people, those living on the outskirts, youth and women.
Along these lines, in the past few years there has been a significant growth in women's mobilizations and feminism around the world, now one of the main political forces globally. This, of course, does not happen in a homogeneous way: feminism has its differences, for instance, between liberal and anti-systemic visions.
All in all, the challenges lie in the building of broad, democratic and sustainable organizational processes. These are the limits of a process that worked well thanks to participation in specific mobilizations, often based on actions that had media impact. (This idea is further developed in the article "Desafíos feministas ante la ofensiva neoliberal" ("Feminist challenges in the face of the neoliberal offensive"), from the Sempreviva Organización Feminista (SOF) book "Resistir y transformar: claves feministas para la lucha anticapitalista" (Resist and transform, key feminist points for the anticapitalist struggle), 2019).
Only in the popular and class-based sectors of the feminist movement is the defense of life and alternative models clearly seen, going beyond the fight for rights and equality with men within the current system. The noise generated by big companies that use feminism (so-called "purplewashing") merely trivializes the issues. This is a trap that feminists must be aware of and denounce.
For this reason, we must incorporate the feminist perspective on dismantling the racist and patriarchal capitalist system in to the global discussion also strengthen ongoing processes of movement-building, cohesion, collective action, and democratic agendas, taking alliances as a principle of struggle.
Based on the resistance, resilience and proposals brought forward by women, this vision of feminism as part of an anti-systemic project puts into practice an action that puts life in the center, understanding our interdependence as human beings and our dependence on nature.
The COVID-19 pandemic experienced by people around the world is a drastic example of this interdependence and the urgent need for a new way to organize society. The pandemic exposes the ills of austerity, the domination of market logic and the precarization of life, and demands a paradigmatic response.
The need for people to isolate exposes that not all of us have that right, depending on our class, race, and also gender. It strongly reveals the position of elites to ensure profit and comfort to the detriment of the health of those who work for them.
It also reveals which jobs are really necessary to sustain life, inside and outside the home. It exposes gaps, which we must fill collectively and urgently, through solidarity, the building of common, self-managed actions, as well as social protection and ensuring health, sanitation and supplies. Today this need is an emergency. As feminists, however, it is our long-term vision: a deep and radical social restructuring that puts life above everything else.
* Nalu Faria is a psychologist, coordinator of feminist organization Sempreviva Organización Feminista (SOF) and member of the International Committee of the World March of Women.
(CC) 2020 Real World Radio