Opinion Pieces
Costa Rica: Government environmentalism deepens crisis
Coecoceiba/Friends of the Earth Costa Rica article.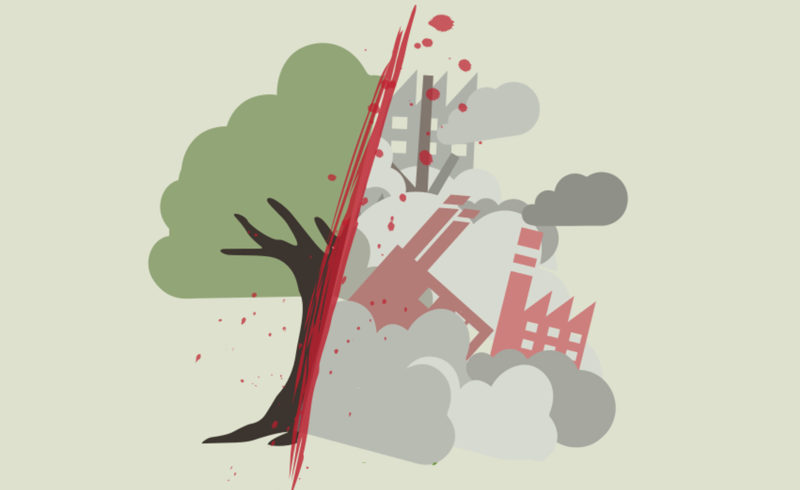 This first article, of a series of three, analyzes the current sociopolitical situation. We will share our vision of what kind of environmental management is proposed by the current government. In a second article, we will analyze some of the proposals and policies that the government has followed or put into practice. Finally, the third article will talk about real solutions to these crises.
Costa Rica is currently experiencing a deep crisis. COVID 19 has accelerated the conditions for this crisis to manifest with the severity we are living it today: a quarter of the population living in poverty conditions, the highest unemployment rates in recent decades, the fiscal situation, structural violence ever stronger. These are just examples showing that a system change is necessary.
The environment is not alien to this crisis: an invasion of monocultures in protected areas, weakening of environmental legislation and policies, serious erosion and setback of citizen participation spaces, criminalization of environmental defenders, serious setbacks in human rights (of Indigenous Peoples, local communities, the general public) and the greater number of recipes presented as solutions to the crises, which only deepen their causes. A system change is more than necessary, otherwise the reality that we will have to face will be harsher than what we are beginning to experience today.
COVID 19, in turn, has allowed different stakeholders to refer to two realities: the old one that has created poverty, greater inequalities, as well as enormous inequity and environmental degradation and destruction. And a new one, which clearly must be different. Even so, in Costa Rica a debate regarding what this new reality should be has not been promoted, which should include a broad participation from all sectors.
President Carlos Alvarado has said that it is necessary to "incorporate the protection of Nature as the center of commercial and financial decisions to face the crisis that COVID-19 has generated in the world (…)". In this context, he maintains that the pandemic is an opportunity to change the way we eat, live, grow, build and empower our lives to achieve a healthy and resilient economy, low in carbon emissions and "positive for nature and thus stop the crisis that will be generated by the loss of biodiversity by 2030" (1).
The intention may seem positive to us: if the dominant development system has destroyed nature and caused the enormous crisis that we are experiencing, nothing is more necessary than to adopt different approaches that overcome that model and lead us to forge better livelihoods, leaving aside the destruction and degradation of nature. A system change is necessary. However, we must ask ourselves, will this new reality be different from the old reality? How will it be? It is true that nature must be protected, but why? Who will do it and how will decisions be taken? Will we be facing a system change promoted by the government?
The statements quoted above by President Alvarado give us clues as to where he, his government and his national and international partners are headed. President Alvarado said as quoted above in his capacity as co-chair of the Champions for Nature community. He also said it during the virtual conference of the World Economic Forum (which launched the New Economic Report at that same meeting, proposing Solutions Based on Nature as an engine for economic reactivation worldwide) (2).
To understand the nature of this intervention, it is important to remember that the World Economic Forum is what is known as the Davos Forum. This is an annual meeting that is held in Switzerland where the largest corporations, some presidents and other related stakeholders attend. This Forum began as a reaction to the World Social Forum that was organized in Porto Alegre, Brazil as an annual gathering of social movements at a global level that met to share, discuss and build common proposals at different levels. In addition, President Alvarado gave that speech not as another guest of that corporate forum, but as chair of Champions for Nature (3), an initiative of the World Economic Forum where Alvarado acts as chair (together with the president of Unilever and the Executive Director of the United Nations Environment Program). In other words, Alvarado was talking to his people, who also have an enormous responsibility in creating the causes of the crisis we are currently experiencing.
During this crisis, we have seen how the different stakeholders act. Large transnational corporations – the same that go to the World Economic Forum or the Davos Forum every year – continue grabbing huge amounts of land to expand their monocultures; they have not changed their ways of production at all and rather, they use false solutions and promises to expand their business (4). In Costa Rica, we have seen agribusiness acting in the same fashion: take the pineapple monoculture as an example, all through its production chain, where not only labor rights are violated, but they have also become a focus for the spread of COVID 19. Among other things, they pollute aquifers, invade protected areas and intensively use pesticides. Threats to the environment go further, as loosening legislation is being lobbied in order to return to highly polluting activities such as gold mining, oil exploration and exploitation, while other policies are weakened.
The government continues to promote neoliberal measures and policies that negatively impact the country. Therefore, hoping for President Alvarado's words to lead to a system change -though they may initially sound good-, or even the beginning of structural changes, is an unrealistic illusion. It is clear from the Costa Rican government's discourse that when they call for a new reality, what they really mean is to deepen the current development model even more. In this way, the environmental crisis becomes an opportunity for official policies to provide greater opportunities and benefits to those who have been destroying the environment.
[1] El País, July 15, 2020: http://www.elpais.cr/2020/07/15/costa-rica-propone-incluir-a-la-naturaleza-como-eje-de-decisiones-economicas-frente-a-la-pandemia/
[2] In the second article in this series, we will discuss nature-based solutions.
[3] https://www.weforum.org/communities/champions-for-nature
[4] In the second article of this series, we will refer to them.
(CC) 2020 Real World Radio