Interviews
Water: a fundamental human right on Wall Street
"Something essential for life can't be in the hands of a few." Interview with María Selva Ortiz from REDES-FoE Uruguay.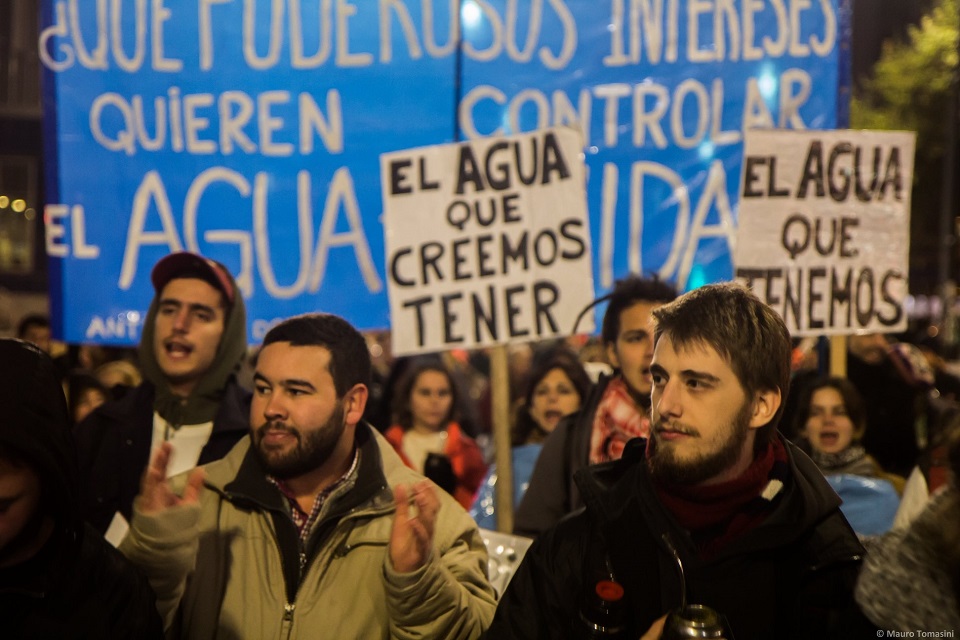 Since December 7, water has been listed on the Wall Street "commodity futures market", as well as oil, gold, wheat or soybeans.
Buyers do not purchase physical products at the time of the futures transaction, but acquire rights to a quantity of water in the future, at a fixed price. This is commonly called "financial speculation".
The index called NQH2O is based on the prices of the main river basins of California (United States), where the scarcity of water is increasing. This value can be used as a reference for the rest of the world in the water markets.
Environmental organizations around the world have criticized this controversial decision to place a common good like water on the Stock Market. It should be remembered that in 2004, by means of a plebiscite, Uruguay reformed the Constitution and included water as a fundamental human right. And in 2015, the United Nations (UN) declared that access to safe drinking water and sanitation are human rights.
To analyze this issue on Real World Radio we spoke with María Selva Ortiz, a member of REDES-Friends of the Earth Uruguay.
"Something that is essential for life can't be in the hands of a few, it can't be in the market. It is a common good, a good for everyone, and not only essential for humans but for all of us who inhabit this planet; water is not a commodity".
"When a common good is in the hands of financial interests seeking greater profit in less time, the resource has been contaminated, looted and clearly mortgaged for future generations and for the population in general," Ortiz warned. When it enters a market, when it has a value, those who have access to it are the ones that have the most: in the capitalist world, corporations and large transnationals".
What happens in Uruguay?
Although in Uruguay at first it would not be possible to give a financial value to water because, as Ortiz explained, "all surface and groundwater are in the public hydraulic domain", the concern is that "these trends are beginning to prevail" and could eventually reach our territories. Furthermore, Ortiz recalled that "there are attempts at the national level to go against a reform such as the Irrigation Law, where if someone would set up a dam or reservoir the water, they would be able to sell it to others; we always state that this is unconstitutional".
Currently, Uruguay faces a drought and a crisis in the quality of its waters that puts the supply of the metropolitan area at risk. REDES-Friends of the Earth Uruguay is concerned that the Government sustains they are listening to offers from private parties to reverse the problem.
"This is not about listening to or receiving offers from private parties," Ortiz criticized. There are a number of participation mechanisms that were enabled in the constitutional reform, [where it is established that] all citizens, civil society and users, have to participate in the management, planning and control processes of our basins and water resources. The Government has to call now the Santa Lucía basin commission and the advisory commission on water and sanitation to see how we are going to face this water crisis and what are the alternatives. The Government has to listen to academia and civil society".
On access to water
According to a 2019 report by the WHO and UNICEF, 2.1 billion people lack access to safely managed drinking water services. More than half of the world's population –4.5 billion people– lack safely managed sanitation services and 361,000 children under the age of five die each year from diarrheal diseases caused by poor sanitation or undrinkable water.
Droughts and water stress respond, to a large extent, to the misuse or inadequate treatment of water, to exploitation under the forestry model and monocultures –part of the extractive production model–, which intensify the climate crisis.
In this regard, Ortiz reflected: "When a common good becomes scarce, the market is the first that wants to secure it and we have seen how, with concepts such as sustainability, corporations and the market make an appearence to try to change and solve this with 'green economy' these environmental problems or environmental crisis. This is: securing their profits without reducing pollution, without reducing the environmental problems we have, such as climate change. The same ones who are polluting the planet are looking for how to profit from this scarcity, how to profit from this environmental crisis".
(CC) 2020 Real World Radio