Interviews
RELATIVES AND SOCIAL ORGANISATIONS DEMAND JUSTICE FOR COLOMBIAN PEASANT LEADER OMAR MORENO IBAGUÉ
Interview with Aidee Moreno Ibagué, Omar's sister and member of SINTRAGRIM and FENSUAGRO (La Via Campesina)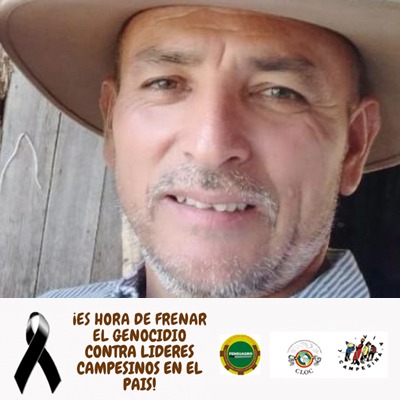 The year 2020 saw the highest recorded murders of social leaders and defenders of territories and peoples' rights in Colombia, since the signing of the Peace Accords in 2016, according to data from the Institute of Studies for Development and Peace (INDEPAZ). On 28 December 2020, peasant and social leader Omar Moreno Ibagué was murdered in Nariño department and his body remains missing.
Moreno Ibagué had a son and two daughters. He was member of the Independent Rural Workers Union of Meta Department (SINTRAGRIM) and former councilman of El Castillo municipality for the Unión Patriótica Party. He had also been involved in the peasant uprising for the defence of land and the territory in Puerto Rico municipality in the 1990s.
Three weeks ago, the peasant leader was "intercepted by individuals riding two motorbikes, who violently pulled him from his vehicle." The local community reported that they know Omar was taken and killed because of the harrowing footage and photos that circulated in the region. These depict the torture he suffered in the hands of an armed group that calls itself Oliver Sinisterra. This was explained in a statement issued on 29 December by the National Agricultural Union Federation (FENSUAGRO), which is part of the Latin American Coordination of Rural Organisations (CLOC – La Vía Campesina).
Real World Radio interviewed the sister of Omar Moreno Ibagué, Aidee, who is also a member of SINTRAGRIM and FENSUAGRO: "We are calling on the national government to search for his remains, as is their constitutional duty (…). The authorities are not giving us any coherent answer about the murder of my brother, or the over 300 others who were murdered." In 2020 alone, 310 social leaders were murdered in Colombia, in addition to 12 relatives of leaders and 64 former guerrilla members from the Revolutionary Armed Forces of Colombia (FARC), who signed the Peace Accords in 2016.
In May 2020, Colombian social organisations warned that systematic attacks against social leaders were growing exponentially during the pandemic. So far this year, seven social leaders were murdered, in addition to four former members of FARC.
Aidee Moreno Ibague filed a complaint before the Public Prosecutor's Office the day following her brother's forced disappearance and murder, but so far the government has not given her a concrete answer. The demands included in the FENSUAGRO statement on 29 December are still valid: "We demand the authorities to activate urgent search mechanisms and to investigate and prosecute the perpetrators of this heinous crime. We also demand that the authorities find the body of Omar Moreno Ibagué. We demand the General Prosecutor's Office to carry out the necessary actions to investigate and prosecute the people responsible for the crimes denounced in this statement."
Aidee Moreno Ibagué explained about the protection of their communities and leaders,: "We have been calling on the national government to take urgent measures, because for instance, the chair of FENSUAGRO, Nury Martinez, was threatened a month ago and the national government has not taken any urgent action, any measure to protect her life. Earlier today we found out that the family of a member of SINTRAGRIM in Meta department was threatened. Men arrived to their home and forced them out, and gave them 24 hours to leave the region or else they would be murdered. Where is the Colombian State ensuring our safety? This is what we demand."
(CC) 2021 Real World Radio