Interviews
"Peasants are the ones who are standing up to a rise of fascism"
FOEI joins the actions of solidarity on the International Day of Peasant Struggle to continue that legacy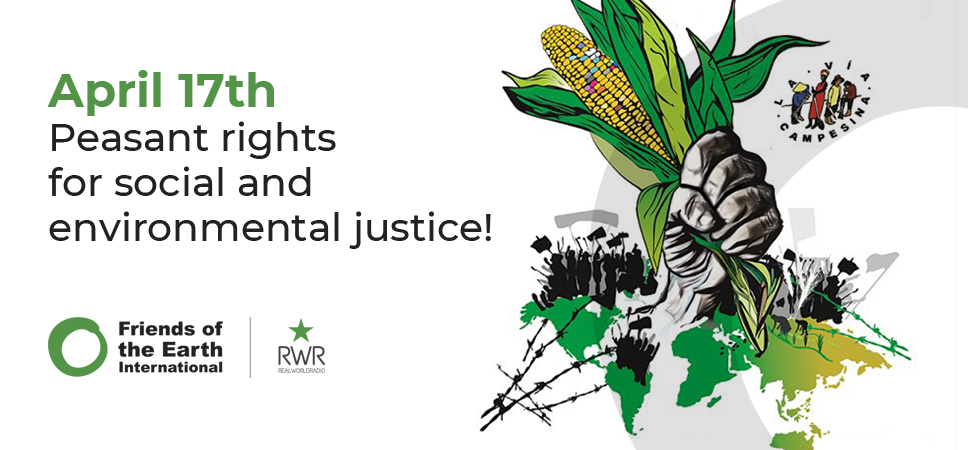 Share
April 17 marks the International Day of Peasant Struggle to remember the 19 peasants  of the Landless Rural Workers Movement of Brazil who were murdered in 1996 in the "Massacre of Eldorado dos Carajas".
That day, tens of police officers attacked 1500 landless peasants in Eldorado dos Carajás. Since then, every April 17, there are thousands of demonstrations around the world to pay homage to them and commemorate the International Day of Peasant Struggle.
This year, La Vía Campesina, an international network of grassroots peasant organizations called thousands of members and allies to unify actions of struggle at global level, stating that "the only way to obtain Peasant Rights is with Agrarian Reform and Social Justice".
Kirtana Chandrasekaran, International Coordinator of the Food Sovereignty program at Friends of the Earth International (FOEI) explained why this is such an important day in the struggle for the right to food sovereignty:
It's a very important day for us in Friends of the Earth International because we stand in solidarity with our longtime allies in Vía Campesina. It's a day to remember them (the 19 peasants of MST murdered) but also to remember and celebrate the power and struggles that the peasant movements have been going through for several decades and are really going through at this time as well.
"Today all over the world peasants are being criminalized, and murdered and attacked systematically, more and more, with the rise of fascism and the neo right wing. And really the battle between the power of finance capital and corporate power versus people power. You can see that just in the last weeks we had several assassinations. And it's not just in the Latin American continent, although it's definitively a hot spot, also in Asia, in India there is over one million peasants and indigenous peoples who are in danger of being evicted from their lands, in Indonesia. Also in Africa the peasants are fighting a kind of new wave of privatization and attempts to take over their lands. So it's happening all over the world. And why is it happening at this moment? It is exactly because peasants are powerful and they are the ones who are standing up to a rise of fascism, the new wave of neoliberal tendencies in many places after a few years of some progressive governments in several places. So there is a need of actually removing them from their lands in order to corporations get what they need.
So how are they really powerful? They are fighting to keep the seeds in their hands, seeds that they have preserved over hundreds of years that are now being privatized, their knowledge, their identity, their ways of lives. But they are also doing it by being present at all the spaces that we work in, in the national spaces, in international and regional spaces, in both political and policy debates".
Chandrasekaran highlighted the importance of the approval of the Declaration on the Rights of Peasants at the UN in late 2018:
"They have won, after several decades, the UN Declaration on Peasants' Rights, which is an extremely powerful tool, that shows that peasants exactly have rights, peasants and peoples in rural areas. They are also trying in many different ways, through their vision for integral agrarian reform to show us a new way of life. They have come up with the food sovereignty movement, now also the movement for agroecology. So they are fighting the system but also then showing us what a different kind of system can look like if we want that".
Why is it important as an environmental organization to support the peasant movement?
"Friends of the Earth International is a movement for environmental justice, but is also a movement for system change. And by this we mean that we don't see environmental justice just by itself, because it cannot exist without economic justice, gender justice, social justice, without fighting all the different forms of exploitation, necolonialism and militarism.
So we know that if we are really to change the system that we live in we are working with all the different movements that exist, especially those that also share our vision of system change. And Vía Campesina is one of these organizations.
I don't think it's an exaggeration to say that the peasant movements (and the movements of the small scale producers, food producers, fisher people, indigenous peoples, workers, and all the mass movements on the ground) are really standing between where we are now, in a kind of total ecological collapse of the planet that we are facing in the next decade, with climate change but also over a million species which are to extinction, fresh water supplies that are collapsing, fish stocks that are collapsing, natural cycles of the world that are not able to sustain life on this planet any longer. And we also know that in fact the people that are protecting the natural world are those who are living on the ground and who have contributed least to the damage for it also. But also they are the ones who are facing the worst impacts of the current system based on resource extraction.
We know we cannot achieve this unless we work together with all the different movements that exist on the ground and the environmental movement as well".
How do we stand in solidarity with Vía Campesina?
"On the ground, our member groups work with Vía Campesina, local member groups, for blockades, but also rallies to create mass movements, to really bring the message of system change into their societies, through small ways and big ways, things like community supported agriculture and markets, through talking to decision makers, through mass mobilizing for change, and all these ways we do it on the ground.
We also do it in the way we work with them towards decision makers in international and regional spaces, where we show very much that we are together as one movement, that we are in solidarity with each other, that we have the same analysis of what the problem is and what the solutions are that we want together.
And then most of all we do it by really having respect for those people who are really doing the work on the ground and always putting first the voices of small scale food producers who are actually fighting the struggle on the ground and producing and showing us the vision of other ways of life, other than one based on resource extraction for endless profit. So we do it also by always remembering that this is their voice that comes first and we are standing behind them with everything all the power we have to work together".
Meanwhile, Diego Montón, of the Latin American Coordination of Countryside Organizations (CLOC – Vía Campesina) said to Real World Radio that "the best way to remember the peasants murdered in Brazil and around the world for defending their lands is to continue with that legacy, that struggle".
"In all continents, people are preparing an action plan at local, national and regional level. As it happens every year, there is a strong focus on the struggle for land and to include in the agenda the recent adoption of the Declaration on the Rights of Peasants", said the Argentinian activist who is also member of the International Collective of Peasant Rights of Vía Campesina.
On April 17 we stand in solidarity with @Via_Campesina´s struggle for Agrarian Reform! Peasant´s Rights Now!
(CC) 2019 Real World Radio