Interviews
Marianela Mejía Solórzano of OFRANEH: "They are calling us 'invaders' of our own lands"
Marianela and her sister Jennifer were accused of causing the "forced displacement" of businessmen in Trujillo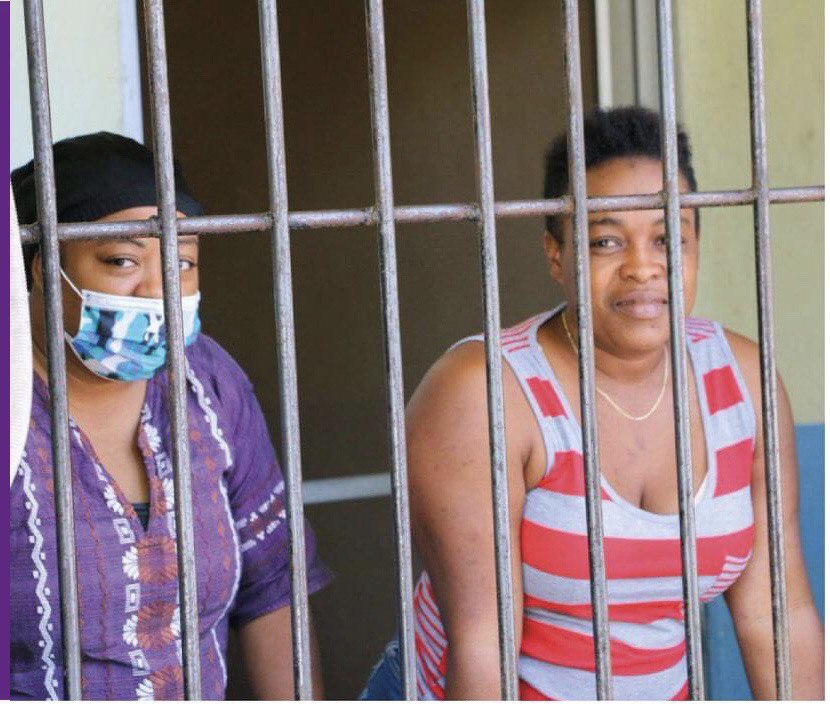 Marianela Mejía Solórzano and her sister Jennifer, members of the Honduran Black Fraternal Organisation, OFRANEH, were detained on 3 March of this year. They are among the 32 OFRANEH members who currently face arrest warrants, accused of supposedly "usurping" lands from the company Bienes y Raíces Juca SRL which plans to build real estate projects on ancestral territories.
The arrest happened a day before the Inter-American Court of Human Rights held a follow-up hearing to a ruling issued five years ago, which held the Honduran state responsible for the "violation of collective ownership rights, to the detriment of the Garifuna Community of Triunfo de la Cruz and its members."
At the time of the police detention, the coordinators of OFRANEH feared that the Mejía Solórzano sisters would be kidnapped and later disappeared, just as happened to Sneider Centeno and other three young people from Triunfo de la Cruz last July. Thanks to an international alert which raised awareness of the detention, the sisters were released a few days later. They were prosecuted nonetheless, despite the Public Attorney's Office failing to submit evidence to substantiate the accusation.
Judge Camilo Peralta prosecuted Jennifer and Marianela Solórzano, accusing them of causing the "forced displacement" of the Juca SRL businessmen who are occupying ancestral Garifuna community lands. The sisters were granted alternatives to pretrial detention and cannot leave the country.
The international community, through solidarity mechanisms such as SOLIRESP — led by La Vía Campesina, Friends of the Earth International, Jubilee South Americas and including other regional organisations, movements and groups — expressed their support to the Mejía sisters and OFRANEH and demanded an end to the criminalisation of defenders of lands and territories.
Real World Radio interviewed Marianela Solórzano. This 31-year-old Garifuna woman lives in Trujillo city, Colon. She coordinates the LGBT group and is a human rights defender at OFRANEH.
In this interview, Marianela recalled how she got involved with OFRANEH and why we need to defend the planet today. She also told us about her detention and that of her sister Jennifer, how they feared they were being kidnapped by the National Police and the hopes they have to be acquitted from the paradoxical accusation that falls on both of them.
"I became involved with OFRANEH due to the financial issues I was experiencing because of the COVID-19 pandemic. I used to have a small print shop and with the pandemic it all went downhill. People didn't come anymore. I have a seven-year-old child, I have my partner. Things were going very badly.
Then I learned that OFRANEH was creating a storage and distribution centre in Trujillo to help single mothers and LGBT couples, as is my case, who were struggling because of the pandemic. Until that moment I didn't know what the organisation did for Garifuna communities and LGBT people. When I approached them and saw what they were doing — wow, I fell in love! I said to myself: "This is what I have been waiting for so long." This is what I always dreamed of: to have someone out there who supported us, who cared about the defence of ancestral territories, an organisation that had LGBT families and people in mind.
Many of the comrades from the organisation were kicked out of their homes when they came out. Some of our trans comrades are extremely criminalised, rejected, persecuted, so their situation was extremely difficult. The organisation created these buildings for our LGBT and trans comrades who had no place to live. There they have food, training, basic hygiene items and a safe space to be, where nobody discriminates against them, rejects or bullies them, where we feel truly safe and at home."
RWR: It is both interesting and necessary to make LGBT people visible in social organisations, and to include the defence of sexual orientation and gender identity in the defence of human rights, territory and access to land.
MM: Exactly. Besides OFRANEH, here in Trujillo there is no other organisation that cares about the vulnerability of the LGBT community and thinks about doing something for us. Also, in terms of the defence of the territories, they have always marginalised us as Garifuna communities. They have always prioritised foreign people, despite knowing that we, as native peoples, Garifuna people in this case, hold ancestral titles since 1901, granted by then-President Manuel Bonilla. They can't now give preference to titles that have nothing to do with us. The Town Hall and the Ownership Registry Office grant permits despite knowing that the National Constitution establishes that the territories located 40km from the sea cannot be occupied by foreigners.
Marianela and Jennifer Mejía, as well as 30 other members of the Garifuna community in Trujillo, face arrest warrants and are accused of supposedly usurping lands and robbery with violence. Marianela was also accused of the crime of "forced displacement" against members of Juca SRL.
According to journalist Giorgio Trucchi, the Juca company is accusing the members of OFRANEH of "invading" lands acquired in 1994 by German citizen Berke Lamberty Carrol Campbell (now deceased), then transferred to the company she herself founded. There is now a housing complex on this land. It forms part of the 7,000 hectares of Garifuna ancestral land that former Presidents Luis Bográn and Manuel Bonilla granted the Garifuna people between 1887 and 1901.
Despite the fact that national legislation and international conventions ratified by Honduras ban the sale of lands under a community property title, in 1978 the Mayor of Trujillo granted full ownership over part of this ancestral land to the municipality, which in turn transferred it to a US citizen, who then sold it to Carrol Campbell and Bienes y Raíces Juca, who would later subdivide the land into plots for sale.
RWR: How were you and your sister arrested?
MM: I was simply criminalised, persecuted and incarcerated with my sister Jennifer Mejía for defending our lands. We have still not been granted unconditional liberty. We have to go to the police station every 15 days to sign a piece of paper because we were given alternative measures to prison and we can't leave the country. But at least we can be with our families and children instead of being in prison, where we don't know what the conditions would be in terms of food, freedom of speech or work.
RWR: Please tell us how you were detained. How did you feel during those hours when you didn't know you had been detained?
MM: My sister was working in a housing construction project for the Garifuna community in Guadalupe (Colón department), 30 minutes away from Trujillo. When she was coming back there was a checkpoint, in a place when there are never usually checkpoints. But, precisely because they knew she was going to be there, they set up this checkpoint and stopped my sister to demand her identity card. When she was stopped she had the right to make one phone call, so she phoned me and I in turn called leader Miriam Miranda to explain what was happening. Miriam told me: "We need to go there to support her and see what is going on." The weird thing is that I went with four other people, but they only asked for my identification. I believe they were already planning to arrest us.
RWR: Do you suspect they were already following your activities?
MM: Exactly. When I gave them my identity card they said: "You also sit down, because we have an arrest warrant against you as well." When I asked "What am I being accused of?", they didn't say anything. So I immediately called Miriam again and told her "I have just been detained and they are telling me there is also an arrest warrant against me." So she came and called the rest of the comrades in our struggle to come and support us, older women who know who we are. Arrest warrants were issued against 32 members of OFRANEH. They are accusing us of being the leaders of the land recovery process. They are calling us "invaders" of our own lands.
When they (the police) saw that more and more people were coming to the place where they detained us, they talked to their superior officer and told us: "Get in the car, we will fix this situation. We don't want more problems, we don't want more people here. Let's go right now to the courthouse." And we said: "To the courthouse, at this hour?" It was 6.00 or 6.30 pm. Here in Trujillo, and in most of Honduras, State offices close at 4.00 or 5.00 pm. It was then that we started to fear for ourselves, but we told our people: "Please, help us, get a car and follow the police vehicle."
When we reached the courthouse, the police vehicle sped up in such a way that we thought and felt like we were going to hit another car. And then we started to get really nervous. This is when we realised that they wanted to kidnap us, because this is not the way they were supposed to proceed. Here in Trujillo they could keep us in the offices of the Investigation Police. Why did they have to move us somewhere else? The police officers told us to turn off our cell phones. I began praying to our ancestors because our lives were in danger. My son didn't know where I was, my nephew was with my sister when they detained her, he was really nervous.
Meanwhile, Miriam started to issue alerts through national and international media. The people from Tocoa even blocked the road so that they could not take us elsewhere. These things, when I talk about them…I still feel so much anxiety, concern, uncertainty. But nevertheless, I still stand with my people, my organisation, as a woman, to continue defending what is ours, because we are not criminals. International organisations talk of a narco state, and the media does not even cover this. Why are true criminals not arrested? They are imprisoning people who care about life, nature, water for the next generations, our children and grandchildren, so that they have somewhere to grow up, build houses and live in dignity.
RWR: You are being accused of "forced displacement", when in fact it is the Garifuna community itself which is suffering from displacement and looting. What do you think about this accusation?
MM: Thanks to my parents, who raised us well, the community knows us. My sister has been a primary school teacher for over 19 years, and I'm studying Business Administration. I have a small business that I'm fighting to get back. People know us, and know that we are not "displacers" of foreigners, that we are defending what is ours. Maybe they thought that we would be affected by the accusation, that people would point fingers at us. But on the contrary, it has united our Garifuna people: they care about our safety, they have been asking us how we are, and OFRANEH has also been taking care of us.
RWR: How do you feel about being a defender of the territory, working with OFRANEH since last year?
MM: For me it's the best. I never thought I was going to be part of an organisation, having the support of my people, and now I even have more strength to carry on. There are people who have called me from elsewhere and told me to leave. But I say to them: "If we don't do it now, then when? If we don't defend our lands today, what will happen tomorrow? If we don't take care of our natural resources today, if we don't take care of our planet today, what will happen to us tomorrow?"
I invite you, and everyone, to fight, because this is the only planet we can live on and the solution is not to migrate because things in other countries are also difficult. If we recover our lands and plant crops in them, we will at least be able to look after our Garifuna communities.
RWR: And how are you doing this?
MM: If there is a piece of ancestral land that is unused, the organisation divides it between the people who have no land or jobs. We clean it and the organisation gives us seeds and teaches us about organic compost to grow these crops. I have already harvested some corn, and I shared it with my LGBT group and those closest to me. We don't have enough land to sell our crops, but it is enough to sustain ourselves and our families and neighbours. We share what we produce with other "recovered lands" and this way we grow little by little.
RWR: How are you resisting the spread of extractivist agribusiness, real-estate or trade projects, such as Special Zones for Economic Development (SEZs)?
MM: Foreigners have been present and illegally buying lands here for a long time. They want to take over our lands, our customs, our traditions. First they come here, pretending to be our friends and say: "Loan or rent me a piece of land, I just want to grow some of this or that," and then, behind our backs, they get hold of the documents where municipal authorities, such as the Ownership Registry Office, authorise them to buy the land. That's why many people disappear, they are killed or kidnapped: so that there is no evidence that they were the rightful landowners.
We won't allow them to continue violating our rights. The more Garifuna teachers, engineers, business managers, agronomists we are, the more able we will be able to have our own businesses, employ our people and take care of the little we have left. This is our only planet and we need to act today because we don't know what will happen tomorrow.
We ask international organisations to continue supporting us. We also remind them that as OFRANEH we are still calling for the return of our comrades from Triunfo de la Cruz. The government is not providing any answers but we tell them that they took our comrades alive, so we want them back alive. They have their whole family, their children, an entire community waiting for them.
(CC) 2021 Real World Radio