Interviews
Every vote counts
Interview with Liz Butler from Friends of the Earth US as the world awaits the results of the presidential election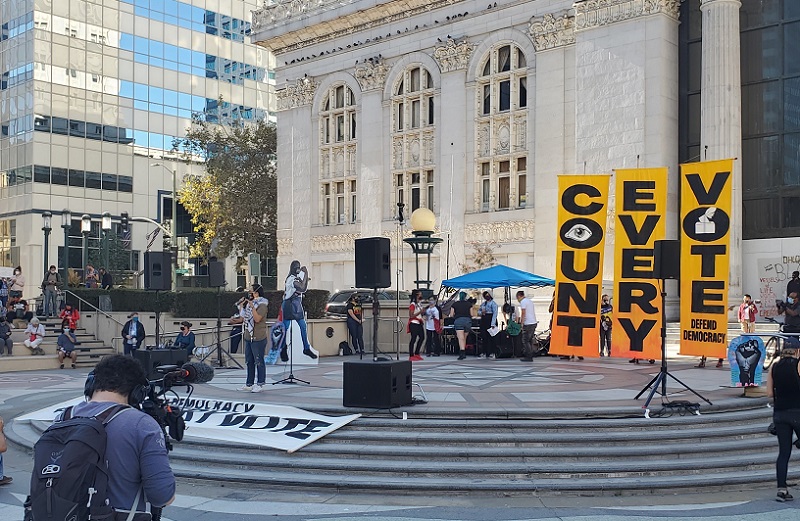 As of Friday morning, Joe Biden had secured 253 electoral votes of the 270 needed to win the Electoral College, with Donald Trump at 214. But in the last few hours, Trump turned to the courts to stop the vote count, tweeting "Stop the Count" and refusing to acknowledge his electoral defeat.
Meanwhile, the major media cut off the livestream of Trump´s press conference because they considered that the president's speech was conducive to disinformation, by making unfounded allegations of fraud, particularly when he spoke of "legal" and "illegal" votes, in reference to those cast by correspondence.
To learn more about how all this has been unfolding in the US, Real World Radio interviewed Liz Butler, VP of Organizing and Strategic Alliances at Friends of the Earth US. This environmental NGO has been out on the streets, mobilizing, to protect the results and make sure that every vote is counted.
Climate change, water contamination, fracking, fossil fuels, polluted air and GMOs are some of the environmental challenges faced by the United States. About the expectations of Friends of the Earth US with the Biden administration, Butler added:
"We have a lot of work ahead of ourselves to make sure that even in a Biden-Harris administration we partner with the rest of the organizations here in the United States that work on environmental justice, social justice, racial justice, to really stand up to the incoming administration and Congress and make sure that they are passing the policies that help people in their daily lives", said Butler.
(CC) 2020 Real World Radio