Interviews
Climate litigation cases in Asia Pacific: a step closer to climate justice
A podcast by Real World Radio and Friends of the Earth Asia Pacific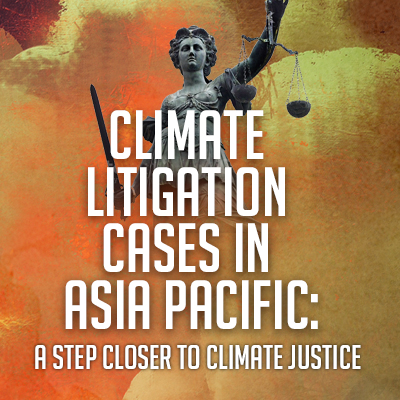 Climate litigation is an increasingly common area of environmental law that people are using to hold countries and public corporations to account for contributing to the climate crisis. In 2021, Friends of the Earth Netherlands, known locally as Milieudefensie, won a landmark victory for climate justice in the People VS Shell climate case. Now, Friends of the Earth Asia Pacific member groups are turning to the courts in their struggle for climate justice.
In 2019, Friends of the Earth Australia and survivors of devastating bushfires launched a claim against ANZ Bank under international law, for financing climate change. 
In 2022, a diverse group of Russian activists launched the first-ever climate lawsuit in Russia, demanding that the government take measures to reduce emissions in line with Paris Agreement targets.
In the same year, residents of Pari Island in Indonesia launched a legal case against Holcim, a Swiss-based global cement company, for the company's contribution to climate change, which threatens their island and livelihoods.
We invite you to listen to "Climate litigation cases in Asia Pacific: a step closer to climate justice", a podcast by Real World Radio and Friends of the Earth Asia Pacific.
(CC) 2023 Real World Radio