Interviews
"Agroecology is the only way in which we can produce food sustainably"
New 'Meat Atlas' exposes the devastating impacts of industrial animal farming – Interview with Stanka Becheva from FoE Europe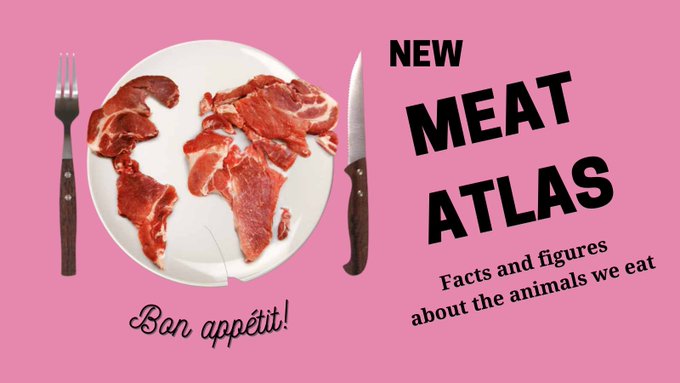 The new edition of the Meat Atlas, published on 7 September 2021 by Friends of the Earth Europe, Heinrich-Böll Stiftung and BUND/Friends of the Earth Germany, reveals the role of the meat industry in the health, biodiversity and climate crises and the impacts of meat production on people, particularly communities in the Global South.
"The Meat Atlas is a publication of over 70 pages in which we brought together different facts and figures about the negative and devastating impacts of industrial animal farming on climate, biodiversity and human rights violations," said Stanka Becheva, Food and Agriculture Campaigner at Friends of the Earth Europe.
The publication shows that industrial animal farming accounts for between 21-37 % of global greenhouse gas emissions and that emissions from animal farming are responsible for approximately 57% of this. It also includes findings by GRAIN and the Institute for Agriculture and Trade Policy, which state that just five meat-and-milk giants – JBS, Tyson, Cargill, Dairy Farmers of America and Fonterra – produce more combined emissions per year than major oil players like Exxon, Shell or BP. All together, 20 livestock firms are responsible for more greenhouse gas emissions than Germany, Britain or France.
The Atlas stresses how, despite the fact that the industry is fuelling deforestation, pesticide use, biodiversity loss, landgrabbing and rights abuses, they are still financed by the world's most powerful banks and investors. Along these lines, Becheva said: "We have many private banks, several of them based in the European Union, but also in Brazil and China, as well as development banks such as the World Bank, which are investing in huge livestock projects with very questionable environmental sustainability dimensions, and projects which are harming the life of local communities."
In particular, Becheva made reference to the impacts of soy production, which is largely used for animal feed in Europe. In Mercosur countries (Argentina, Brazil, Paraguay and Uruguay), large amounts of pesticides that are not allowed in the European Union are sprayed. These pesticides are destroying the environment and harming local communities. "The Association Agreement between the European Union and the Mercosur countries raises concerns with regards to meat and feed, as well as the rainforest and the climate," reads the Meat Atlas.
When asked about whether it is possible to produce meat in a framework of environmental and social justice, the European campaigner said: "We believe that agroecology is the only way in which we can produce food sustainably, by respecting the limits of nature on one side, but also using local and traditional knowledge of the producers." "There is a political action needed to support them and to make sure that they have the needed space to continue producing in this way," she added.
In a press release issued ahead of the publication launch, Friends of the Earth Europe and Heinrich-Böll-Stiftung demanded more effective support for sustainable small-scale livestock producers and decentralised meat processing facilities that contribute to rural development. They advocate for legislation that would "force companies, including financiers, to identify risks of harms in their global value chains and to prevent, mitigate and remedy those harms."
Finally, Bacheva stressed that their aim with the new Meat Atlas is to make more people aware and encourage them to demand action from their policymakers. "We really hope this Atlas will give the courage, information, facts and the needed inspiration to be really politically active, to go to the streets, to write to their policymakers and to ask for political changes," she concluded.
(CC) 2021 Real World Radio