Interviews
A Toxic Alliance: How European agrochemical corporations and the agribusiness lobby are influencing the legislative agenda in Brazil
Interview with Audrey Changoe, co-author of the report "Toxic Trading: The EU pesticide lobby's offensive in Brazil"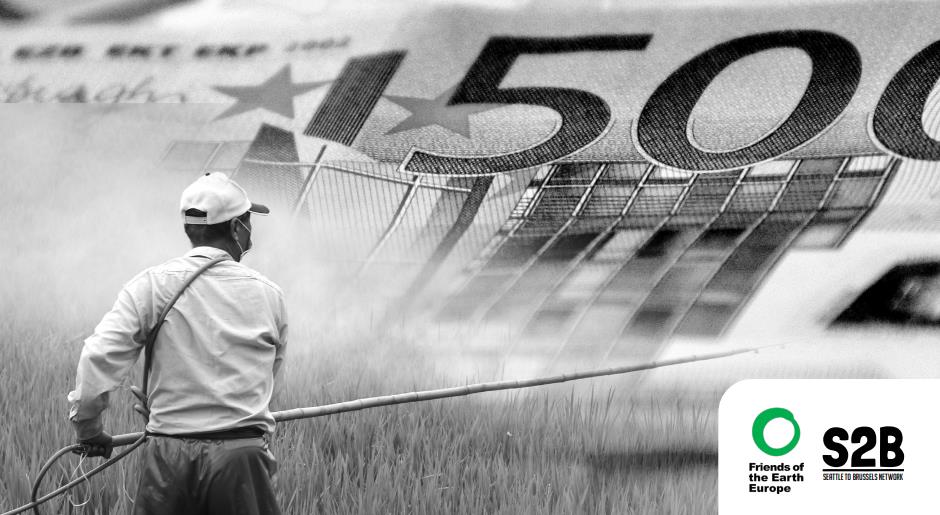 The EU-Mercosur trade deal, agreed in 2019 but yet to be ratified, is set to benefit European agrochemical companies whilst having dire consequences for nature, local communities and Indigenous communities in South America. It will lead to a steep increase in exports of crop to Europe and import of dangerous agrochemicals to the southern cone, particularly Brazil. This is why "big chemical companies like Bayer and BASF are pushing for the ratification of this trade deal and are also lobbying in the Mercosur region to get more market access for dangerous pesticides," said Audrey Changoe, Trade and Investment Campaigner at Friends of the Earth Europe, in an interview with Real World Radio.
In the report launched in April 2022 by Friends of the Earth Europe and the Seattle to Brussels Network (S2B) they "show that the joint efforts of the Brazilian agribusiness and European companies have been successful. Bayer and BASF have got 45 pesticides approved by the Bolsonaro government, of which 19 contain substances that have been prohibited in the European Union," added Changoe.
The report also highlights how pesticide use has multiplied sixfold over the last 20 years in Brazil. This has boosted sales for European companies, but while "the European pesticide industry is making huge profits from harmful pesticides, one person dies from pesticide poisoning in Brazil every two days and about 20 per cent of these victims are children and adolescents," denounced the activist.
Even UN institutions are warning about the level of pesticide use in Brazil, which is having serious impacts on human rights and health, particularly for Indigenous and Afro-descendant communities who have been victims of deliberate spraying of pesticides on their lands. "Pesticide spraying has been used as a chemical weapon to evict them from their lands," said Changoe. "The UN has also warned about the lobby practices of pesticide companies and the power they have to obstruct and paralyse regulation around pesticides," she added.
The report goes on to denounce how groups representing Bayer, BASF and Syngenta have spent around 2 million euros to support the agribusiness lobby, and how this lobby and the EU pesticide industry are represented by the influential agribusiness bloc in Brazilian congress – the bancada ruralista – who have a notorious reputation pushing back environmental legislation. "They have been aggressively lobbying for the use of more dangerous pesticides like glyphosate and paraquat and they have also been promoting a controversial pesticide bill which is called the "poison package"," stressed the trade campaigner.
With reference to this "poison package" and in advance of key hearings at the Brazilian Senate on the draft bill, UN experts warned that its adoption "will mark a monumental setback for human rights in the country", in a press release issued by the UN Human Rights Office on 22 June. "Weakening the current regulatory framework on pesticides would be a step backward when it comes to environmental standards in the country, a potentially retrogressive measure," said the experts, among them the Special Rapporteur on the Right to Food, Michael Fakhri, and members of the UN Working Group on discrimination against women and girls.
European agrochemical corporations are not only benefitting from weaker environmental laws in Brazil, they are also enjoying huge tax exemptions on pesticides. "The amount that the Brazilian government fails to collect because of tax exemptions on pesticides was nearly four times the total budget of the Ministry of Environment in 2020," said Changoe, adding that "pesticide companies have also been able to hide behind a veil of commercial confidentiality, which means that a lot of information on the substances of pesticides is not being made public." "This means that Brazilian consumers are kept in the dark as to which substances actually end up on their plate," she explained.
The report concludes with a number of demands, highlighting that the EU has a major role to play in supporting the South American region to transition from intensive agriculture to more sustainable, agroecological practices. Friends of the Earth Europe and the Seattle to Brussels Network state that "business as usual is not an option" and demand a move towards more sustainable ways of producing and consuming food, which respect human rights and our planet's ecological limits. Lastly, they call for trade policy to support shorter supply chains, following the principles of agroecology and putting small-scale farmers at the centre.
(CC) 2022 Real World Radio