Coverage
Women Discuss Forms of Resistance and Alternatives to Corporate Power in Latin America
Bertha Zúñiga, Leticia Paranhos, Miriam Miranda, and Soniamara Maranho on how to confront transnational corporations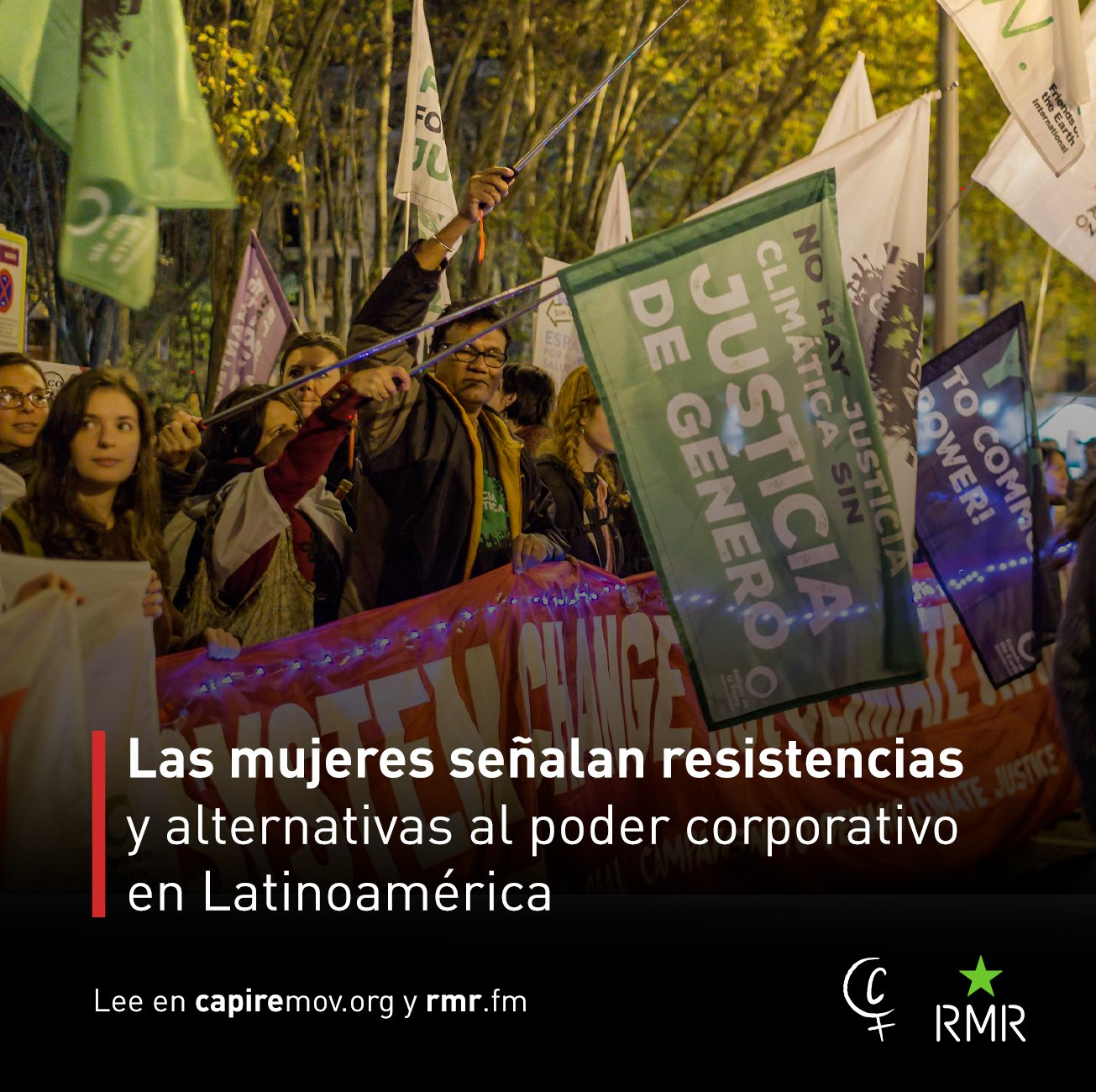 Movements from Latin America and the Caribbean met in August in Honduras for a number of activities called by Friends of the Earth Latin America and the Caribbean (Amigos de la Tierra América Latina y el Caribe—ATALC). On the 23rd, an open event was held called Rights for the Peoples, Obligations for Companies. It was attended by more than 15 speakers and it focused on the binding treaty on transnational corporations and human rights, which will be discussed during the eighth round of United Nations (UN) talks in October in Geneva, Switzerland.
The event was attended by Natalie Roque Sandoval, the minister of the Human Rights Department of Honduras, who received a text proposed by the Global Campaign to Dismantle Corporate Power. The movements believe that restoring democracy in this Central American country and the Xiomara Castro administration represents a scenario of opportunities to push national and international human rights protection policies.
"We were very excited when president Xiomara Castro took office, seeing the faces of so many women who have dedicated their lives to this struggle, who have fought with their own lives to put life on center stage; to claim that, as women spearhead this battle on the front lines and are the ones who are most affected, they are also the ones who take the lead. The face of the struggle for the treaty is the face of feminism," said Leticia Paranhos, of Friends of the Earth International, in the beginning of her speech.
Soniamara Maranho, of the Movement of People Affected by Dams in Latin America (Movimento de Afectados por Represas en America—MAR) was one of the militants who spoke about the agenda dedicated to confronting corporate power. She argued that "transnational companies are corporations with parallel power, with so much power. And they often exert great pressure on our governments and our peoples. The law does not exist for them. They need no visa, respect no borders, need no negotiations, because negotiations come from above and aim to make them richer and privatize everything we have built with our hands and our sweat."
"They are repressive companies that take from us even the right to live and reproduce life in our territories. This is why they take away our food and our natural resources that are essential for human development around the world: because they want to rule it."
Soniamara Maranho
Miriam Miranda, a director of the Black Fraternal Organization of Honduras (Organización Fraternal Negra Hondureña—OFRANEH), talked about corporate power in Honduras, addressing how it is rendered natural, as is climate change and increasingly precarious living conditions. She also criticized the false solutions offered by companies for the issue of industrial waste and the consumption of ultra-processed foods: "Ninety percent of what we buy at grocery stores is wrapped in plastic, and they tell us 'bring your own bag to avoid using more plastic.'" Miriam asked, "How can you explain to a child that food does not grow in the supermarket? We are used to bringing our children to the store, but they don't know that, behind the food we buy, there are many problems in rural areas." She added that, "we have to understand that our neighborhoods are territories where we need to build sovereignty and autonomy. Look at what is happening in the north right now: all the rivers are drying up, there is a crisis, it is an appalling thing."
To Challenge Transnational Corporations Means To Defend Life and Human Resources
The Garifuna people, including Miriam, lives in a reality of persecution and land grabbing. "We live by the coast, which is an area that is continuously under siege by organized crime and drug trafficking. In this scenario, we have to struggle day after day not to disappear as peoples and communities. You can't imagine what that means, what it means to be harassed by this true power that has been growing every day in Latin America," she said during the event.
That same week, the Continental Day for Democracy and Against Neoliberalism published a statement in defense of Miriam, denouncing the abuse of authority perpetrated by the country's General Prosecutor's Office, which started an investigation against her and other political, Indigenous, and community activists.
"We understand that the strategy that criminalizes defenders, employed by the Prosecutor's Office, is part of a script that aims to destabilize the Executive branch. This is part of a strategy that has been used to undermine the governability of administrations that aim to restore the democratic order. It is in this sense that we appeal to the state of Honduras, to put an end to these violent actions, to ensure the right to legitimate self-defense for different territories. We thus reiterate that we support and stand together with Miriam Miranda, Luther Castillo Harry, and Edy Tábora."
Continental Day for Democracy and Against Neoliberalism
Bertha Zúñiga spoke about the organization of the Civic Council of Popular and Indigenous Organizations of Honduras (Consejo Cívico de Organizaciones Populares e Indígenas de Honduras—COPINH) since the murder of her mother and leader of the council, Berta Cáceres, in 2016. The alliances and processes of exposure and denunciation have been fundamental, as Bertha describes, to "pinpoint and hold accountable the companies that, with money—and not just their money, because the more we investigate, the clearer their complicity in criminal activities is—, have allowed so many crimes to happen, not just the one against our sister Berta Cáceres." She argued that Berta's murder was "the epitome of the huge persecution happening in Latin America and of the consequences of the disrespect for the rights to free, prior, and informed consultation of the Indigenous peoples."
Every day of investigation—not just official investigations, but also those conducted based on grassroots solidarity—exposes more clearly how companies connected to the Agua Zarca hydro project are accountable for this murder. This year, 2022, David Castillo, the former executive president of the company Desarrollos Energéticos (DESA), which had economic interests in the territory of the Lenca people defended by Berta, was found guilty. For Berthita, his conviction "was a very important moment, because he was the link with international companies and European banks. So we were able to say to these companies: 'You were speaking to a person who was sentenced to 22 years in prison.' That is huge. Now we are sure that these companies are murderers."
Grassroots Organizing To Dismantle Corporate Power
One of the ways to fight the power of transnational corporations is the proposed binding treaty, which can provide regulation for and rule on this power on an international level, putting human rights before profit. According to Leticia Paranhos, of Friends of the Earth Brazil, the talks regarding this treaty have been possible only because of the joint efforts of movements and pro-people governments. Leticia also said that, when the treaty was being discussed, a number of attacks by the market against the negotiations, as well as battles between the global North and the global South, caused the document to lose fundamental elements for its own power. "In alliance with the Global Campaign and democratic states in the South, we were able to bring back essential content so that the treaty would not be just a blank piece of paper," she said. The strong will to empower the treaty and reorganize the economy, as she argued, comes from grassroots power: "Thankfully the people is standing up and we are restoring our democracies with governments that put life on center stage, that don't bow down to transnational corporations' profits. We know that the law itself does not ensure rights. The grassroots struggle will ensure rights, but the law will be a tool that will allow movements, peoples, and affected communities to wage a fairer struggle.
"How do we wake the people up? We always bring our drums, which are part of our struggle, our colors, and our joy, because the struggle must be joyful."
Miriam Miranda
Miriam Miranda also added that it is necessary to take further transformative action, to overcome critiques. "In face of the situation and reality, we must pace ourselves, not only in our analysis but also in the formulation of proposals." This, she said, shows how necessary it is to connect the struggles for food sovereignty and environmental justice, not only among rural populations, but also in urban areas. "You can't hold communities responsible for taking care of the planet. Urban areas also have to take responsibility—we must strengthen the struggles in the neighborhoods because they are the consumers of what comes from here. Peoples in the neighborhoods must know that we are struggling there, where the food is produced; but if we don't have water there, they will not have anything to eat in urban areas."
The encroachment of nature and the exploitation of labor power in Latin America and the Caribbean is a topic of concern that social movements across the continent denounce. Transnational companies operating with no rules or restrictions create new forms of imperialism and colonialism, aggravating the conflict between capital and life in the territories of the global South. This conflict was clear, for example, in the crimes committed by the mining company Vale, responsible for the death of hundreds of people and for the destruction of communities and their livelihoods after the Brumadinho and Mariana dams broke in Brazil, near the area where Soniamara lives. The lack of fair reparation for the people who have been affected is also a mark of corporate power. "Transnational corporations take and privatize everything that is socially built, through the hands and bodies of our peoples. We cannot talk about the development of the capitalist system and transnational companies without talking about Latin America, because we are extremely rich in natural resources," Soniamara said.
"We all believe in an alternative to the capitalist system. We need to stop transnational corporations to defend our planet. We want and we believe that we can build a society to be happy, to enjoy the fruits of our labor, where the peoples and governments abide by a project of sovereignty, democracy, and defense of human rights."
Soniamara Maranho
_____
By Capire and Real World Radio
Words by Helena Zelic and Valentina Machado
(CC) 2022 Real World Radio