News
Pressure on the WTO for Intellectual Property waiver on COVID vaccine
Interview with intellectual property lawyer Sangeeta Shashikant from Third World Network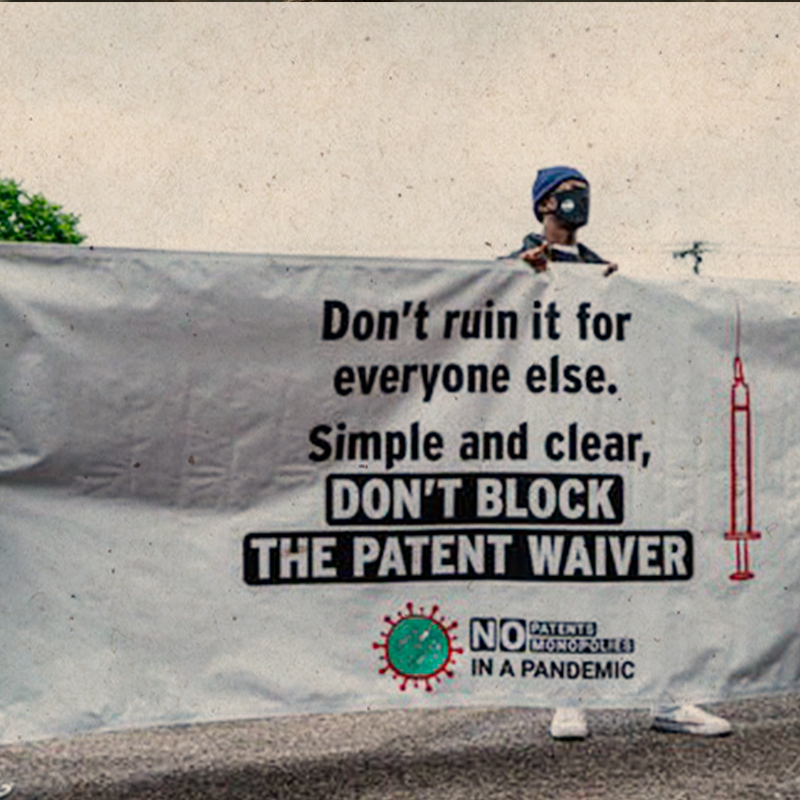 "Today high income countries are vaccinating 25 times faster than the lowest income countries," warned the Coordinator of the Development and Intellectual Property Programme at Third World Network (TWN), Sangeeta Shashikant, on Thursday. "Intellectual property waivers are a must in the context of a pandemic," she added in an interview with Real World Radio.
This Friday, the World Trade Organisation (WTO) is holding a special meeting in which a proposal for a waiver of Intellectual Property rights on the vaccines to tackle Covid-19, co-sponsored initially by India and South Africa, will be on the table.
However, a final decision is not expected today. "There is definitely a chance for a decision on the proposed waiver. However this decision will not be taken on Friday, when there will be an adoption of a report that will call for discussions to continue," said Shashikant. "Co-sponsors of the proposal have been calling for negotiations on the text, but this is being opposed by a handful of developed country governments."
Last October, South Africa and India submitted a proposal to suspend the World Trade Organisation's agreement on Trade-Related Aspects of Intellectual Property Rights (TRIPS) for the duration of the coronavirus pandemic. The goal is to facilitate the transfer of technology and scientific knowledge to developing countries, in order to ramp up the global production of vaccines and other necessary equipment.
Shashikant explained to Real World Radio that the waiver proposal presented by India and South Africa is now co-sponsored by 60 other developing countries, including the Africa Group as well as the Least Developed Countries (LDC) Group. Many other developing countries also support the proposal.
"The waiver is definitely a possibility as it is a legal option provided by the WTO framework for situations of exceptional circumstances. And this pandemic is such an event. In the past, waivers of specific Intellectual Property provisions in the TRIPS agreement have been granted," said TWN's legal advisor.
However, it's not that easy. Several Global North governments, especially the European Union, United States, Canada, Switzerland and the United Kingdom, where many pharmaceutical companies are based, are blocking this waiver. In doing so, they are putting profits over saving lives all around the world.
Shashikant elaborated on the need for the Intellectual Property waiver. "Presently, the technology-holding companies decide who they will license the technology to for purposes of manufacturing, and the terms of the license. There is very little transparency around these agreements, which are artificially limiting production and supply to maximise profits, as often the technology-holding company only allows a few specific companies to manufacture and supply," she said. "Hence, the proposed waiver is based on the need to lift intellectual property monopolies around the technology and 'know how', so that there is greater freedom to operate for manufacturers all around the world, to scale up production and diversify supply and to facilitate greater sharing of knowledge," she concluded.
The TWN's specialist stressed that there are two important issues in this pandemic: supply and affordability. "Supply is presently a big challenge. For instance, most vaccine supply presently is snapped up by high income countries and there is very little supply left for low and middle income countries. Today high income countries are vaccinating 25 times faster than the lowest income countries." "The second issue is one of affordability. As many of the medical products for Covid-19 are expensive, the appalling inequity is going to make it very hard to control this pandemic," Shashikant warned.
Shashikant concluded that in this context, the TRIPS waiver proposal plays a crucial role in realising the right to health and promoting access to healthcare services. She said that the proposal received extensive global support from international organisations, civil society organisations, faith-based leaders, former Presidents, prime ministers, Nobel laureates, members of the European Parliament and national Parliaments, and the general public.
High-level representatives of the World Health Organisation have also questioned that if a temporary waiver to patents cannot be issued in these unprecedented times, then when would be the right time.
Environmental federation Friends of the Earth International said today that "a just recovery from crisis is only possible if all people, no matter where they live, have fast and affordable access to treatments and vaccines." "We call on all governments to support the waiver and release Big Pharma's grip over the rights to produce and distribute coronavirus vaccines worldwide."
In April 2020, more than 250 organisations from around the globe sent an open letter asking the WTO to stop all trade and investment treaty negotiations during the Covid-19 crisis and focus on access to medical supplies and saving lives.
Shashikant regretted that progress on this TRIPS waiver proposal in the WTO is being blocked by a few developed countries "that are more interested in protecting monopolies than saving lives." "This has been a huge setback, but hopefully with more global support we will reach a decision soon. We call on all listeners to reach out to your governments to support this very important initiative," she highlighted.
(CC) 2021 Real World Radio