News
Democracy restored in Bolivia
Luis Arce, member of the socialist party MAS, wins with over 52% of votes. Interview with Silvestre Saisari Cruz (MST-Bolivia)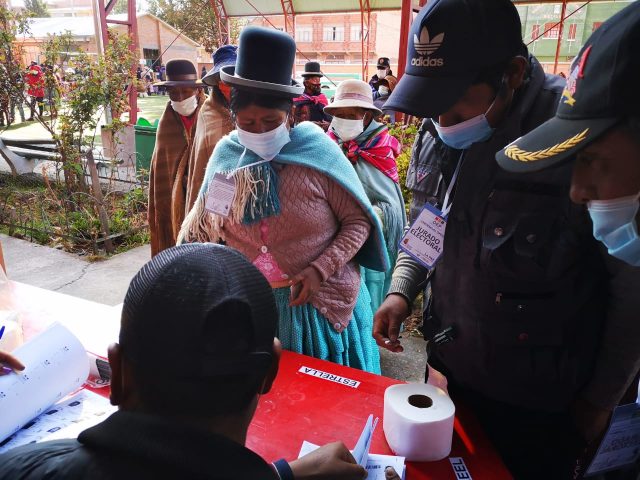 After the coup d´Etat against Evo Morales' re-election in November 2019, there were high hopes that these presidential elections in October 2020 would reinstate democracy in Bolivia. 48 hours before the vote, the Argentinian delegation that traveled to Bolivia to act as international observers denounced the illegal detention of lawmaker Federico Fagioli and the generalised violence they received from officials of Jeanine Añez' de facto government.
On Sunday 18, alternative and community media in the region followed the voting closely, noting concern as polling organisations refused to disclose the results of the exit polls. The media also denounced the arrest of press people, women and peasants in Tarija.
Finally, a few minutes after midnight, after four hours of waiting, polling organisation CiesMori disclosed the results of the quick count of votes.
"We have restored democracy and hope," said Arce, joined by his running mate David Choquehuance and the leaders of Pacto de Unidad, a national alliance of Bolivian grassroots organisations. Arce, who was formerly the Economic Minister during Evo Morales' administration, thanked the Bolivian people and families.
"We will lead again the process of change," said Luis Arce, minutes after finding out he had won the elections in the first round according to the results of a quick count of votes by CiesMori and 'Tu voto cuenta' of Jubileo.
From the head office of MAS in La Paz (Sopocachi), Arce promised that "he will rule for all the Bolivian people." "We will build a government of national unity. We will build unity in our country," said the president-elect. Many people hugged, cried and chanted in excitement: "We are MAS, we are MAS!"
In an interview with Real World Radio, Silvestre Saisari, National Coordinator of the Landless Peasant and Indigenous Workers Movement of Bolivia (MST-Bolivia, CLOC-La Via Campesina) recounted their experience of the electoral day and the challenges ahead:
"It was a peaceful, democratic celebration. The result is undeniable: a clear and resounding victory against the pro-coup right wing. The transition needs to take place as swiftly as possible; hopefully by next month. And all the corresponding actions to repair the economic and psychological damage caused in the Plurinational State of Bolivia will need to begin. From here on, it is up to us to rebuild brotherhood and sisterhood among the Bolivian people, putting aside the hate built during this past year with the coup d´Etat."
Before the results of the election were made known, on Sunday afternoon Saisari Cruz sent the following message through the social media accounts of CLOC-LVC:
"Practically 100% of the rural population has participated. Our participation was filled with civic spirit. From our farms, by horse, in whatever way possible, rural peoples went to the polls to participate in a democratic way and say: No to the dictatorship! No to capitalism! No to the imperial imposition!"
(CC) 2020 Real World Radio